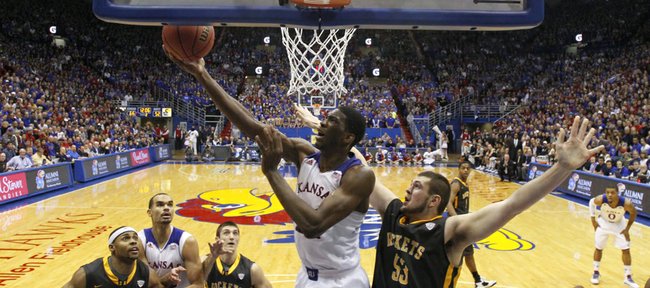 There just wasn't enough time for Joel Embiid to make the 7,000-mile trek from Kansas to Cameroon during the Kansas University basketball team's four-day Christmas vacation.
So the 7-foot freshman took advantage of the unusually quiet Jayhawker Towers while hanging out in Lawrence from Dec. 22 to 26.
"It was fun. For Christmas I went to coach Townsend's (house)," Embiid said of Christmas Eve and Christmas Day fellowship and food at the home of assistant coach Kurtis Townsend and wife Linda, who also had director of student-athlete development Fred Quartlebaum and his family over. "We ate dinner. We watched a movie," Embiid added.
He said the feast of turkey, chicken, stuffing and potatoes was pretty similar to what he'd have eaten over the holiday back in his native land.
"Chicken, rice, pasta, everything," Embiid revealed.
The movie of choice was a comedy as the Townsend family continued its tradition of heading out on Christmas evening for a flick.
"Anchorman 2," Kurtis Townsend said. "Not as good as the original, but it was good. My family loves him," Townsend added of Embiid. "He's the nicest kid in the world."
Embiid gave his own review of Anchorman 2 on Twitter on Christmas night. "Anchorman 2 is so funny ... Must watch for everyone," Embiid wrote, giving a thumbs up to Will Ferrell's laughfest.
Big man Embiid had another big game on Monday, scoring 14 points and grabbing 10 rebounds with three blocks while logging 31 minutes in a 93-83 win over Toledo in Allen Fieldhouse.
"I mean, coach (Bill Self) wants me to be aggressive all the time on defense," Embiid said. "I try my best to do what he wants, just to play the game.
"It's all about work, keep working every day and getting better," added Embiid, who has two double-doubles this season while averaging 10.8 points and 6.9 boards.
Embiid, who has vaulted to nbadraft.net's projected No. 1 player in the 2014 NBA Draft (he's No. 4 by draftexpress.com), is currently hitting 66.7 percent (46 of 69) of his shots. Mark Randall is KU's single-season field goal percentage leader (minimum 175 attempts), canning 64.6 percent in 1989. Embiid has been a solid finisher at the rim.
"I look at great players like Tim Duncan, Hakeem Olajuwon. I watch tape and try to learn from them, what they do best and put it in my game," Embiid said.
On Monday's postgame radio show, he was asked how it felt to be compared to some of the great big men.
"I mean, it makes me want to keep working," said Embiid, who started playing basketball at the age of 15. "It makes me want to become like them. I'll take it," he added with a smile.
He said he's been made aware of the great Wilt Chamberlain, who played at KU.
"I started watching basketball really late. I heard Wilt in the NBA did great. He's the all-time leading scorer, all the things he does, rebound, everything," Embiid said.
Actually Wilt is fifth all-time on the NBA's point chart. Another big man, Kareem Abdul-Jabbar, ranks No. 1 overall.
Embiid stresses over and over that his goal is "to get better."
To that end, he brings all-out effort to practice against KU's other big men every day.
"There is competition. Everyone wants to play. Everyone wants minutes. Everyone comes to work," Embiid said of a group that includes bigs Perry Ellis, Jamari Traylor, Tarik Black, Landen Lucas, Justin Wesley and red-shirt transfer Hunter Mickelson who will be eligible to play in games next season.
"We are making each other better," Embiid added. "They make me better because they are so physical and I make them better because I am so long. Going over a 7-footer is not that easy. Going against physical players ... I try to use my quickness to get better."
KU coach Bill Self and big-man coach Norm Roberts have definitely enjoyed working with the 7-footer.
"It's surprising that he can be as good as he is this soon if you don't know him. But if you watch him every day, nothing surprises you," Self said. "The kid can do anything. He's smart, and he's a sponge. Now, that does not translate to him playing well, not at all. He's going to have games where he has six points and four rebounds, and he'll have games where he gets 20 and 12, and a lot of that is just experience and knowing how to plug himself into the game and stuff like that.
"But when you think about gifted with hands and feet and intellect and things like that, I don't think anything really surprises you. But it does amaze you watching him make some plays.
"Joel is a guy that when you work with your big guys and you teach them, we're going to move over this shoulder, we're going to move over this shoulder, guys get confidence through repetition. Well, Joel's moves are never the same. You can teach him this, but he's going to have a different way to get to it every day, and that's what makes him so unique, because he's not robotic at all," Self added.
Fellow freshman Andrew Wiggins may have said it best in describing the rapidly-developing Embiid: "I am (amazed) because he hasn't been playing basketball that long. To do the stuff he's doing now is amazing."
Roy on Orr: Former KU coach Roy Williams spoke to the Associated Press about former Iowa State coach Johnny Orr, who has died at the age of 86: "He's one of the greatest guys I ever coached against. One of the funniest guys, one of the most sincere guys. He cared about people. He brought an excitement to Ames that wasn't there before. I loved him. He was a great mentor to me, a great friend," said Williams, current coach at North Carolina.