Document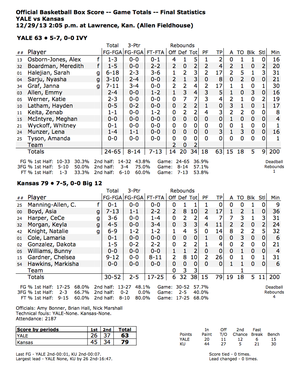 Kansas University women's basketball coach Bonnie Henrickson assigned her team to read the book "Toughness" by ESPN's Jay Bilas over winter break, but despite Kansas' 79-63 victory Sunday against Yale at Allen Fieldhouse, she feels the Jayhawks still have some homework to do.
"We need to keep reading," Henrickson said. "I thought we started (well), but we were inconsistently tough. I thought at times we played really well, and we got in passing lanes and were physical. Then we didn't, and we got soft."
KU opened with an 11-0 run and shot 68 percent in the first half. Juniors Asia Boyd, Natalie Knight and Chelsea Gardner led the charge by scoring in double figures before halftime.
"We tried to just keep throwing punches in the first half, and we tried to do that early on but struggled in the second half," Knight said.
Gardner led all scorers with 26 points and grabbed 10 rebounds, her fourth double-double of the season.
"I was just trying to get the lob over the top and then working in the post and the lane by getting my hip into them," Gardner said.
Boyd and Gardner helped the Jayhawks outscore the Bulldogs 44-20 in the paint.
Gardner shot 9-for-12 from the field and 8-for-11 on free throws.
With Knight running the offense as the point guard, she wanted to make it a point of emphasis to feed Gardner inside.
"It is always important to utilize Chelsea," Knight said. "Like coach Bonnie said, we want to work around the big guy inside. When we do that early on, it's easier for us to get going."
Knight filled the stat sheet as well, with 14 points, eight assists, five rebounds and five steals.
"She's been more aggressive in practice, and we have to start in practice before to see it in a game," Henrickson said. "That's her mentality, and she has embraced that. That's who I think she is capable of being, and that is certainly who we need her to be."
Knight said that she has learned a lot from Bilas' book so far.
"We just started the book yesterday, but we read the intro and the first chapter," Knight said. "A lot of people don't really understand what the word toughness means. A lot of people think about physical toughness, but it is more of a mental aspect, and I think we all learned a little bit about that in the first chapter. I think it did help us in practice, and it carried over into the game."
Kansas had its largest lead at 55-29 at the 16:47 mark of the second half, but the Bulldogs outscored the Jayhawks 27-12 over the next 11 minutes to pull within 11 with five minutes to go.
"I was disappointed when we got it to 26 that we couldn't get it to 30 and get even more separation, but give Yale credit," Henrickson said.
The Jayhawks' offense cooled down from its hot start in the first half, but Henrickson told the Jayhawks their defense was what needed to buckle down to clinch the victory.
"(Coach Henrickson) always says to try to get three stops in a row," Knight said. "I'm not sure we were able to do that. We needed to settle down, and we kind of did that in probably the last three minutes of the game."
Eleven points was as close as Yale came, as Kansas ended the game on 12-6 spurt.
The Jayhawks held the Bulldogs to 36.9 percent shooting, but Yale knocked down eight of its 14 three-point attempts.
Senior Janna Graf and junior Sarah Halejian scored 17 apiece to pace the Bulldogs (5-7).
Shawnee Mission homecoming
While New Haven, Conn., is roughly 1,300 miles away from Lawrence, a large Yale fanbase was located behind the Bulldogs' bench Sunday in Allen Fieldhouse. The Bulldogs have two players — Graf and sophomore Emmy Allen — who are former Sunflower League players.
Graf is a Shawnee Mission East product, and Lawrence is the closest she has played to home while in college. Graf was a three-time all state and All-Sunflower League player during her career with the Lancers. She had approximately 20 family members in attendance, as well as former teammates and coaches.
"It was a great opportunity and great experience," Graf said. "We had a lot of family and friends come out to watch, so it is a memory I'll have for the rest of my life."
Allen is a sophomore from Shawnee Mission South and is second in Raiders' history in rebounds with 703. She had five points, four rebounds and three blocks in 16 minutes off the bench.
Big 12 play opens with WVU
The matchup against Yale was the final nonconference game for the Jayhawks. Kansas wrapped up its nonconference schedule with a record of 7-5 and will turn its focus to West Virginia to begin Big 12 play.
"We just need more help on the defensive end and that is what we need to work on this week in practice before we play West Virginia," Gardner said.
After losing its season opener to Ohio State, the Mountaineers have rattled off 11 straight wins by the average of 25.9 points per game. WVU closed out its nonconference schedule with a 89-56 victory Sunday against Elon.
West Virginia has four players averaging double figures: senior Asya Bussie, sophomore Bria Holmes, senior Taylor Palmer and senior Christal Caldwell.