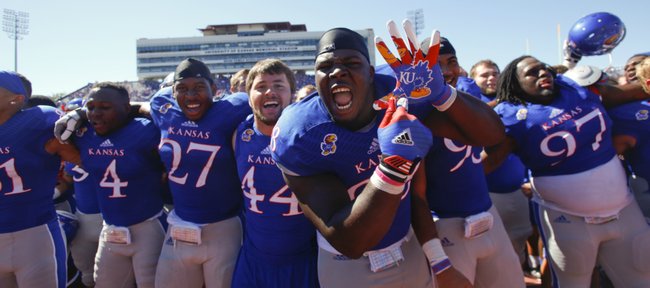 Two years ago, right around this time, I had my first telephone conversation with Keon Stowers. I learned then what a lot of current Kansas University football recruits are discovering today.
Stowers is someone you want to be around.
And that fact is having a heck of an impact on KU's recruiting, as Stowers has stepped up and taken the lead as one of the top hosting options for visiting prospects considering Kansas.
It's hard to pinpoint exactly what it is about Stowers that is so inviting because there's so much there. He has as big a smile as anyone I've ever met, is intelligent beyond the realm of football and does an amazing job of mixing the no-nonsense attitude expected from a military man with the type of demeanor you would expect from a young man in college having the time of his life.
As KU coach Charlie Weis continues to add commitments to the Class of 2014 — the Jayhawks have 13 spots spoken for and as many as 13 more to hand out — it's clear that Stowers has become one of his biggest assets in the process.
A year ago, the Jayhawks had similar help from a signee named Marquel Combs. Combs, who signed with the Jayhawks last December and has since transferred, was a master of the sell on Twitter and did a fantastic job of hyping up the opportunity that existed for junior-college players at Kansas. In the end, though, Combs' words were merely that — words — and it's obvious that Stowers offers more.
Here's a guy who, just two years ago, was in the same position many of these junior-college prospects find themselves in today — loaded with offers, overwhelmed with questions and unsure which was the right path to take. Today, he's a returning team captain, a guy who can look these young guys in the eyes and tell them, 'If you follow my lead, you too can put yourself in this position.'
The best part about Stowers' ability to do that is he never glosses over the hard part, all of the work and sacrifice, pain and frustration that could come before they get there.
I once asked Stowers what being named a team captain meant to him, and his answer included more than the cliché of it being an honor to be thought of so highly by teammates.
That part was there, too, but his full answer demonstrated that the title was about much more than trotting out to mid-field for the opening coin toss or leading by example in the weight room.
"It's my duty as a captain and the leader I am to do whatever possible to help this team," he began. "I'm gonna give the university all I have to succeed, even after I'm long gone."