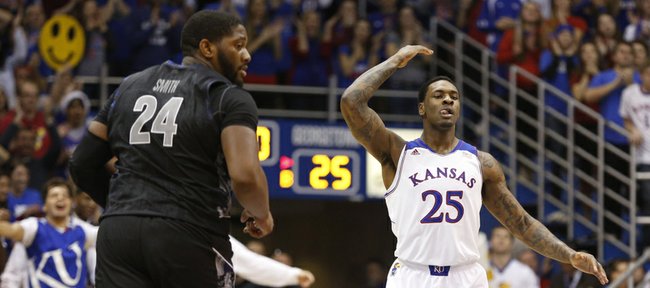 Before coming to Lawrence, Kansas University senior Tarik Black, a transfer from Memphis, carved out a niche as Conference USA's top shooter.
Most of Black's shots with the Tigers came from point-blank range, as he led his former conference in field-goal percentage in back-to-back seasons — 58.9 percent a season ago and a single-season record 68.9 percent during 2011-12 – but, close range or not, the numbers were impressive.
Saturday, during KU's 86-64 victory over Georgetown, Black made all five field-goal attempts and seven of nine shots from the free-throw line during his first breakout game with the Jayhawks.
For his efforts, Black on Monday was named Big 12 Conference newcomer of the week, which made him the third Jayhawk to be so recognized during the season's first seven weeks.
Although Black's Kansas career started slowly, it had more to do with constant foul trouble and less to do with his offensive production. During his first 10 games in a KU uniform — eight of them starts — Black had delivered 11-of-20 shooting, good for 55 percent. After Saturday's effort, Black is up to 64 percent and feeling good about his game once again.
"He knows he hasn't played well," KU coach Bill Self said of Black. "A lot of it is self-caused, and a lot of it is bad luck. He lost a little confidence, but he kept working hard and never took practices (or) even a few possessions off. Hard work paid off."
The breakthrough performance came at a great time for the Jayhawks (8-3), who saw sophomore forward Perry Ellis limited to just 12 minutes in the victory over Georgetown after taking a blow to the head on a hard foul. In addition to the 5-of-5 shooting effort, Black added six rebounds and some toughness against a physical and experienced Georgetown squad that scrapped from the opening tip to the final horn.
With Ellis expected to be back for KU's next game — 7 p.m. Monday vs. Toledo — Self could not help but smile about the potential of KU's front court the rest of the way.
"He may not always have 17 points," Self said of Black. "He didn't do anything spectacular. He just played to his strengths. So if we can keep getting production out of him and Joel (Embiid, 17 points, eight rebounds on 4-of-4 shooting), we'll be a hard team to deal with. Jamari (Traylor, eight points, seven rebounds in 20 minutes) was great off the bench as well."
Black's Big 12 honor was the fourth for the Jayhawks this season. Ellis and freshman Andrew Wiggins earned player- and newcomer-of-the-week honors, respectively, on Nov. 18, and Embiid earned newcomer-of-the-week honors on Dec. 2.
Wiggins and West
A photograph surfaced Monday on Twitter of KU freshman Andrew Wiggins posing with hip-hop star Kanye West. In the photo, Wiggins is wearing a Houston Rockets hat, while West is sporting a smooth coat and a big smile.
The photo likely was taken in Wiggins' hometown of Toronto, where the KU forward is spending the holidays and West's "Yeezus" tour wrapped up Monday night.
Bilas a big fan
College basketball analyst Jay Bilas, who was in town Saturday to call KU's 22-point victory over Georgetown, took to Twitter following the game to praise the play he saw from freshman center Embiid, who finished with 17 points, eight rebounds, a block and two steals in 21 minutes.
Bilas' Tweet: "If stock is being sold in Joel Embiid's future, I want to buy some. That kid is ridonkulously talented. Dare I say, upside?!"
The raw big man who has started during the past three games enters the holiday break as KU's third-leading scorer, at 10.5 points per game, and leading rebounder, at 6.6 per contest. He also ranks first in blocks (25) and steals (13) while shooting 68.3 percent from the field and 64.7 percent from the free-throw line.