Photo Gallery
KU basketball v. Georgetown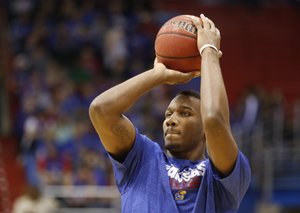 Images from Saturday's game between the Jayhawks and Hoyas at Allen Fieldhouse.
Podcast episode
Bill Self postgame vs. Georgetown, Dec. 21, 2013
Podcast episode
Tarik Black, Joel Embiid, Naadir Tharpe postgame vs. Georgetown, Dec. 21, 2013
Kansas University's senior power forward Tarik Black didn't sulk, didn't brood, didn't mope after losing his starting spot to freshman Joel Embiid three games ago.
"His attitude even got better," KU coach Bill Self said after Memphis transfer Black exploded for 17 points with six rebounds and two blocks while playing 20 minutes in the Jayhawks' 86-64 rout of Georgetown on Saturday in Allen Fieldhouse.
"It's a great lesson for young kids to learn. He tries so hard. You knew eventually he was going to kick it. He was great today."
Black, who hit five of five floor shots and seven of nine free throws, had not scored in KU's last four games while playing a combined 22 minutes. He was 0-for-3 from the field in that span and had seven rebounds total.
"I knew coming here that it wasn't going to be perfect. I'm new here. I played in college for a while (three years at Memphis), but I had to learn the system," said the 6-foot-9, 260-pound Black, who also did a good job defending 6-10, 350-pound Joshua Smith. Smith finished with five points and no rebounds plus five fouls in 19 minutes.
"I knew there were things I was going to go through. The thing that made it easier was, I played before. I knew what I was capable of the whole time. It was a matter of finding it in this system and having the faith the time was going to come, the opportunity was going to present itself and be ready for it. I had to continue to work hard so when the time came I didn't let it pass me by."
Black said it was easy to not get too low during a foul-plagued start to his senior season. His previous scoring high had been eight points in the season opener versus Louisiana at Monroe. He had a season-high seven boards in that game.
"I have a great coaching staff that told me to keep my head up and keep on working," said Black, who also received a boost from his mom, Judith, and dad, Lawrence, who were in the stands Saturday.
"My teammates ... they push me. Joel (17 points, 4-for-4 shooting, 9-for-12 from line, eight rebounds) and Naa (Tharpe, 10 points, four assists) tell me every day, 'You need to play in games like you do in practice and play hard.'"
Black played 12 minutes the second half, some of that alongside Embiid. Forward Perry Ellis played just two minutes of the half, leaving after getting hammered in the back of the head by Nate Lubick on a shooting foul at 18:44. Ellis sat out the rest of the game with concussion-like symptoms. Ellis, who had five points and two boards in 12 minutes, is OK and not expected to miss any practice time.
"The same balls that had been rolling out ... a couple rolled in today," Self said of Black's shot attempts. "He made his free throws for the most part. He got an opportunity to play extended minutes. It's hard to get in rhythm if you are playing two to three minutes a time at the most.
"That was nice to be able to take Joel out and get just as good production bringing Tarik in," Self added. "One thing I did see today, depending on how the other team plays, we can play those two guys together, too. That was a bonus. If we keep getting production out of Tarik and Joel, we'll be a hard team to deal with. Jamari (Traylor, eight points, 3-for-3 shooting, seven boards in 20 minutes) was great off the bench as well."
Embiid had a solid block of an Aaron Bowen shot in the first half and a follow dunk off a miss by Andrew Wiggins (12 points, 3-for-10 shooting) in the second half. Both were certainly worthy of "SportsCenter" plays of the day and/or the season's highlight video.
"Look at this guy, man. This right here is a load in itself," Black said with a smile, pointing to Embiid in the interview room. "We can definitely do damage on the inside. When I get my opportunities, if I come out and perform the way I am supposed to ... we also have Landen Lucas that can come in and perform at a high level. We are dangerous in the frontcourt."
Tharpe, who said he shares leadership duties with Black at practice, knew the big guy was primed for a big game.
"Definitely," said Tharpe, who worked 28 minutes. Backup point Frank Mason had five points and four assists in 15 minutes. "Every practice, he (Black) is a guy that is always talking. If not me, he's always talking as well. He never gets down on himself or tries to put the other team down. The one thing about him throughout that time he was a little down, he was a good teammate the whole time."
Black had six points in a 14-3 run that turned a 24-23 deficit into a 37-27 KU lead. KU (8-3) held a 44-34 advantage at the break over the Hoyas (7-3). The Jayhawks hit 31 of 46 free throws in a physical game to Georgetown's 16 of 28.
Georgetown hit 22 of 54 shots (40.7 percent), including four of 15 threes to KU's 54.3 percent shooting (five of 14 threes).
"We guarded their actions really well," Self said. "Our scout team did a great job during the week. Niko (Roberts), Evan (Manning), Justin (Wesley) and Hunter (Mickelson) did a great job of preparing our team for this game. Take away the first 10 minutes, that was a much better defensive basketball team out there."
The Jayhawks — with the exception of Cameroon native Embiid, who will stay in Lawrence — now return to their hometowns for winter break. Practice will resume Dec. 26, with the next game a 7 p.m. battle against Toledo on Dec. 30 in Allen.