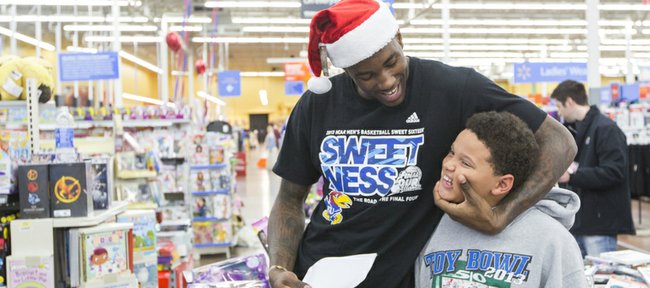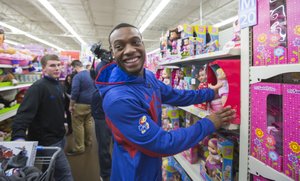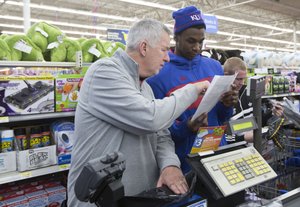 Jamari Traylor had a Santa hat on his head and big smile on his face as he dropped a full-function radio-control pickup truck into a shopping cart on Thursday night in Wal-Mart on Iowa Street.
"I like coming out here helping kids and giving back to them, because I remember some Christmases I didn't have everything under the tree that I wanted," said Traylor, Kansas University's 6-foot-8, 220-pound sophomore forward from the south side of Chicago, who was taking part in KU's 17th-annual shopping excursion for needy families.
"I always had Christmas. There were times that were hard and everything, but it was always Christmas regardless. I did not always have gifts, but I still had my family," added Traylor, who was homeless for a time as a teen.
Traylor and his KU teammates, who each adopted a family for the holiday, were allowed to spend $100 per person for each family member. The money was raised by KU Roundball Club members, as well as coach Bill Self's Assists Foundation and also from Roger and Linda Morningstar, who started the program at KU during the Roy Williams era.
"I know there are some kids out there who are not going to have anything on Christmas, probably. It's good to come out here and spread some joy to the nice little kids on my list. This is going to put a smile on their face," said Traylor. "It's a better feeling to give than receive."
KU freshman Andrew Wiggins started his shopping excursion in the children's clothing department. He had winter jackets in his cart as he ventured over to the doll department.
"It's fun to have a night like this," Wiggins said at 9:30 p.m. Thursday. "Knowing how fortunate me and the guys on the basketball team are ... it's great to give back to the kids, help put a smile on their face, bring joy to all of them."
Senior Niko Roberts, who had a bike in his cart, said he enjoyed watching the team's newcomers shop. Senior Tarik Black, who was at Memphis last year, was spotted jokingly trying to steal the bike and put it in his own cart.
"Yes, because they (freshmen) are always jacking around and want to play with the toys more than the kids we're getting these for," Roberts said, smiling. "We're blessed with so much at Kansas, it's nice to give back to people, to give back to the community."
KU coach Bill Self, who said he wanted to thank all the individuals who donated to the Adopt-a-Family fund, was asked to pinpoint the best shopper on the team.
"I'd go with a veteran, Niko or Justin (Wesley)," he said of the seniors. "They would be my top two picks. If I was a kid, I'd want Jo (Embiid) to pick things out without question. He's the biggest kid on our team and probably could relate to any 9- or 10-year old very well. I imagine they are all pretty good, though."
White questionable: Self said Andrew White III (hip bruise) remained questionable for Saturday's 11 a.m. game against Georgetown.
"He hasn't been able to practice hardly at all, other than the shooting drills, since he was injured (at practice) last Thursday," Self said.
Barry's 'rant': Self has spoken with Southern Illinois coach/buddy Barry Hinson following Hinson's rant after a recent loss. The rant went viral on the Internet.
"I got a kick out of it. Anybody who knows him got a kick out of it too," Self said of the video. "I guarantee people who are poking fun at him for some of the things he said, if they really listen to the press conference, he's basically poking fun at himself. Everybody who knows him knows it's his sense of humor. I really thought it was hilarious.
"What it did was made my Topeka YMCA comments last year seem third or fourth string compared to some of the things Barry came up with," he added of KU's former director of basketball operations.
Self ripped into his team after last year's loss to TCU in Fort Worth saying it was the worst loss since James Naismith's KU team lost to Topeka YMCA.
Self said he agreed with ESPN's Keith Olbermann who disagreed that Hinson's postgame comments constituted a "rant."
"How many times during a rant do you make fun of yourself? How many times during a rant do you allow seven other people to speak?" Self said. "How many times during a rant when somebody sneezes do you say, 'Bless you?' I think Barry regrets calling out the one individual who had a bad game. If you know Barry, and I'm sure his players know Barry, he didn't mean any harm."