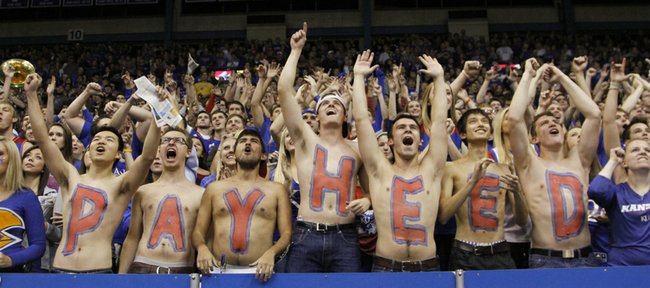 There have been several volleyball matches and women's basketball contests played in Allen Fieldhouse the past several weeks.
But there have been no men's basketball games held in Kansas University's tradition-rich building since the Jayhawks' 30-point rout of Towson on Nov. 22.
Believe it or not, Saturday's 11 a.m. contest against Georgetown will be the first men's game in Allen in 29 days.
"I can't wait for that," KU freshman guard Wayne Selden said with a smile.
Same goes for coach Bill Self, who has taken his team to the Bahamas for three games, Colorado and Florida, as well as Kansas City's Sprint Center for a six-game stretch away from home.
"I bet it's the longest time (not) playing in Allen Fieldhouse maybe in the history of the building," Self said Monday on his "Hawk Talk" radio show. "I could be wrong on that. I bet there's not been one situation where it's been a month where a team hasn't played a home game there."
He's close to being correct.
It's the longest stretch between games in the fieldhouse in the Self era, with the previous 19 days four different times.
The longest stretch in the modern era appears to be 32 days between home games from Dec. 16, 2000, to Jan. 17, 2001. Roy Williams was the coach at that time.
The longest stretch in the Larry Brown era was 25 days between home games. There was a 35-day drought from Dec. 14, 1974, to Jan. 18, 1975, in the Ted Owens era. Back then, however, fewer nonconference games were played, and KU generally was away from home a long time around the time of the Big Eight Holiday Tournament in Kemper Arena.
"It's actually a good schedule as long as you can get through it," Self said. His Jayhawks have lost at CU and Florida and dropped a game to Villanova in the Bahamas with wins this season over Louisiana at Monroe, Duke, Iona, Towson, Wake Forest and UTEP to go with Saturday's 80-63 win over New Mexico in Kansas City, Mo.
"We probably lost a little confidence during a stretch. I don't think that's all bad. A lot of times you can camouflage weaknesses by beating teams you should beat, especially guarantee games at home. We've not had that luxury. Even in wins, we've been pushed. Those are good things. We will be pushed three more times without question. Even though they are at home, they will be hard games."
KU will meet Georgetown (6-2) on Saturday, Toledo (9-0) on Dec. 30 and San Diego State (7-1) on Jan. 5 in the final three nonconference games on the schedule, all in Allen.
"Our next three opponents have a combined record of 21-3," Self said, understating by a victory. "Toledo is still undefeated. We've got a chance to get some momentum by beating some good teams if we play well before conference play."
After looking at the film, Self thought KU played well Saturday.
Junior point guard Naadir Tharpe celebrated his return to a starting position after a two-game absence by dishing nine assists against four turnovers and scoring eight points in 37 minutes.
"He is trying," Self said. "I am probably harder on Naadir than I am anybody just because I think he should know. We have had numerous talks. He does know. He gets it. I didn't think he was doing much to help the other guys, whether it be on the court or off the court. I got frustrated with him. We put him on the bench.
"The reality is, he didn't react that well (to benching) so that was a little bit disappointing to me," Self added. "We had a talk about that. The bottom line is, he's as valuable a player as we have. He can play. He's a great kid. He has to understand his value to us. He can't take days off. He is the only one we have with any experience.
"Perry (Ellis, 21 points, nine rebounds) had a good game, obviously, and the big kid was terrific," he noted of Joel Embiid, who had 18 points and six boards — 17 points the second half. "That was a good team. People will find out. They'll either win the Mountain West or finish second, because the other team we play (from that league), San Diego State, will win it or finish second."
Awards list: KU signees Cliff Alexander and Kelly Oubre are two of 10 high school players on the Naismith Trophy High School Player of the Year Early-Season Watch List, the Atlanta Tipoff Club announced Monday.
Alexander, 6-foot-8, from Curie High School in Chicago, and Oubre, 6-7 from Findlay Prep in Henderson, Nev., are ranked Nos 4 and 12 nationally by Rivals.com.
Alexander has led Curie to a 4-0 record. He recently scored 22 points, grabbed 20 rebounds and blocked five shots against Las Vegas Bishop Gorman High School at the Chicago Elite Classic. He scored 18 points and grabbed 13 rebounds in an overtime overtime victory against Chicago St. Rita. Through 15 games, Oubre (6-7, 200-pound) is averaging 24.7 points, 7.1 rebounds and 2.8 steals.
Others on the list: Justin Jackson (North Carolina commit), Stanley Johnson (Arizona), Tyus Jones (Duke), Kevon Looney (UCLA), Trey Lyles (Kentucky), Emmanuel Mudiay (SMU), Jahlil Okafor (Duke) and Myles Turner, who is considering KU and others.
WSU wants KU series: Wichita State coach Gregg Marshall tells Foxsportskansascity.com he would like to schedule a series with KU — one game in Allen Fieldhouse, one in Sprint Center and one at Intrust Bank Arena in Wichita.
"I'm not going to just be bought," Marshall said. "I'm not going to go to Allen Fieldhouse for a check (as guarantee game opponent). We'd like to play home-and-home. Ultimately, we've got to put ourselves in a position where playing (the Jayhawks) or not playing them has no bearing on our success, and that's what we're doing. It would be helpful, but still, we're putting ourselves in a position where it doesn't matter if they want to play or not. That's what we have to do. One day, when it behooves them, then maybe it'll happen."
KU currently has no plans to schedule WSU in men's hoops.
"It's out there that we will play anybody," Marshall told FOX, "and the better the team, the better for us. And we'll start on the road."
Of KU he added: "KU doesn't normally lose three games, especially this early — sometimes, they don't lose three games all year. Give 'em credit: (They're) playing on the road and playing a great schedule. It would just be nice if we were one of them."
To read the FOX story, go to http://foxs.pt/19OOvh7