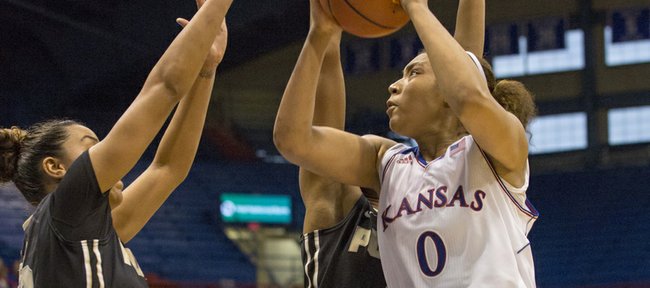 Document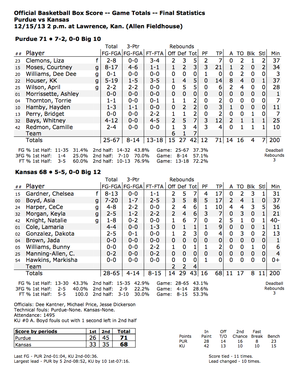 Down a point to the No. 18-ranked team in the country with just seconds left on the clock Sunday afternoon at Allen Fieldhouse, Kansas University's women's basketball team needed its guards to keep cutting up Purdue's defense like they had throughout the second half.
The hot hand of junior Asia Boyd and the speed bursts of late sub Lamaria Cole kept the Jayhawks on pace with the Boilermakers, who had recovered from a seven-point halftime deficit.
With 12.4 seconds left on the clock, KU coach Bonnie Henrickson called an isolation play for Boyd. The strength of the 6-foot-1 guard from Detroit helped her get all the way to the paint from the left wing, but Boyd missed an off-balance layup, and Purdue guard KK Houser dove on the loose ball. All Boyd could do was foul, and Houser, a senior guard, knocked in two free throws with 1.2 seconds left to seal a 71-68 comeback victory.
"I had a good look at it. I should've finished it, but I think it was a pretty good look," said Boyd, who made six of her 13 shots in the second half and finished with 17 points and eight rebounds. "I tried to get to the basket, get fouled."
She had driven in from the opposite wing on KU's last possession and tied the game at 68 with a layup. Boyd's next attempt looked like a mirror image but didn't produce the same result.
"I felt like I pulled up when I was supposed to. I just didn't knock it down," Boyd said. "It felt good. I thought I had a good shot."
Senior KU guard CeCe Harper heaved a desperation three from the back court, which had no chance of falling, as time expired.
With the game tied at 68, Houser (14 points, eight assists) drove and dropped off a pass for junior forward Whitney Bays, who drew Chelsea Gardner's fourth personal foul and made one of her two free throws with 12.4 seconds left to give the Boilermakers (7-2) a 69-68 advantage.
Kansas, which lost for the fifth time in seven games, jumped to a 33-26 lead at halftime after holding the Boilermakers to 11-for-35 shooting in the first 20 minutes. But it didn't take long for Purdue to storm back once senior guard Courtney Moses started feeling it.
Said Henrickson: "She comes out of the locker room and just blows us up."
The 5-foot-6 shooter scored 19 of her 21 points in the second half, hitting four of her five three-pointers. It began, Henrickson said, when KU (5-5) had four players in man defense and another in zone.
"That's how she gets one," the coach lamented, "and then she just starts being more aggressive, and she gets loose and was able to elevate over the top of us a little bit."
The Jayhawks never would have had a chance to beat Purdue if Boyd and Cole didn't step up. A 5-6 sophomore, Cole didn't enter the game until near the midway point of the second half. In 11 minutes, she scored nine points, converting four layups.
Cole didn't play at all in KU's previous game and logged just two minutes in the game prior to that.
"Obviously, she has struggled here a little bit and not performed very well," Henrickson said of not turning to Cole sooner. "I just felt like we needed some speed in the back court and at that point hadn't got a whole lot of pop off the bench. We'd been turning the ball over, making mistakes and fouling. I thought, 'Well, I feel like she could do that.' … She might just do it faster than everybody else."
Cole did go faster than the rest of the players on the floor, but she did so for easy buckets.
"She made the most of her minutes, and good for her," Henrickson said.
The 10th-year Kansas coach wasn't nearly as pleased with Gardner, who picked up her third foul with 13:53 left and only played 14 second-half minutes after dominating most of the game up to that point.
"Chelsea getting in foul trouble makes her less effective. It just kills us," Henrickson said after the junior forward scored 17 points and grabbed seven rebounds in 31 minutes. "We want to play through her. … That's on her, because the third (foul is) an over-the-back. Those are freshmen fouls. She's gotta stop. She's got a responsibility to play with more discipline."
The Jayhawks don't play again until Sunday, when they play host to Tulsa.