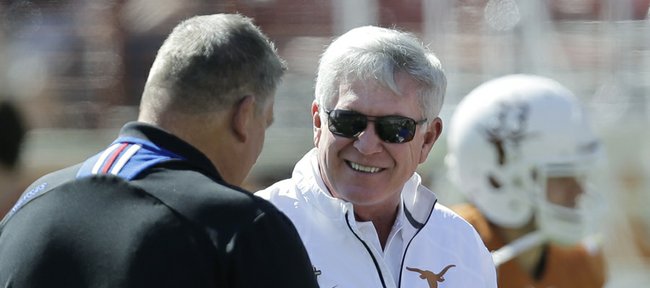 On Saturday, Texas football coach Mack Brown announced that the upcoming Alamo Bowl against Oregon on Dec. 30 would be his last game as coach of the Longhorns.
Sunday, the man who spent the past 16 years as the face of the blueblood program and led Texas to the 2005 national championship explained why he was stepping down.
None of the explanation surprised Kansas University football coach Charlie Weis, a longtime Brown friend and just one of many admirers saddened by the news of his resignation.
"I was with him in New York (last) Monday night," Weis told the Journal-World on Sunday. "And he didn't look like he was done coaching, that's for sure."
Brown's decision to walk away brought to a close a week in which speculation ran wild about whether he would resign, be forced out or something in between. Regarded by those who know him as a class act to the core, Brown said Sunday it simply was time for him to move on and that he harbored no ill feelings toward the university or the program he helped bring back to life.
"Leave it to Mack Brown for his last act at Texas to be as unselfish as that was," Weis said.
Asked about what Brown's departure means for the Big 12, Weis, who is heading into his third season in the conference, said he had not thought much about the ramifications.
"I'm more concerned for him," Weis said. "Regardless of whether he wanted to do it or didn't want to, at least there was a big weight lifted off his shoulders either way. I'm not looking at the big picture of this, for the Big 12 or for Kansas versus Texas, because, for me, it's a friend. When somebody's in one spot for 16 years, that's almost unheard of in today's football. It just doesn't happen. And then you go through all those years where you win 10 games every year, you win a national championship, you're always at the top of the conference. … I don't know about the Big 12 Conference, but when you have a coach that's been at a place for that long that not only has won but is such a fine man, that's a loss for everybody."
Weis said he had not given much thought to whether his buddy would coach again.
"I don't know that," he said. "I didn't see him not coaching this year. The problem, as I see it, is the guy bled burnt orange. You never say never, but he doesn't have to, so I'm sure if he does it would have to the perfect circumstance."
Mid-year signing day
Wednesday marks the first day that mid-year junior-college transfers can sign national letters of intent with their new schools.
Although the Jayhawks have just one juco player (6-foot-2, 300-pound Georgia Military offensive lineman Keyon Haughton) committed and on pace to graduate this month, it remains likely that KU will sign at least a couple of guys on Wednesday.
Weis has said since last winter that the Jayhawks would not bring in as many junior-college players in the Class of 2014 as they did in the 2013, but the current class still figures to have a significant juco presence.
Levingston down to two
Dontae Levingston, a 6-5, 285-pound offensive tackle from Santa Monica (Calif.) Community College, tweeted on Sunday that he had narrowed his list to Kansas and Texas Tech.
Levingston, an expected mid-year transfer who eliminated Kansas State from his finalists after recent visits to KU and Tech, said he would decide by Wednesday.