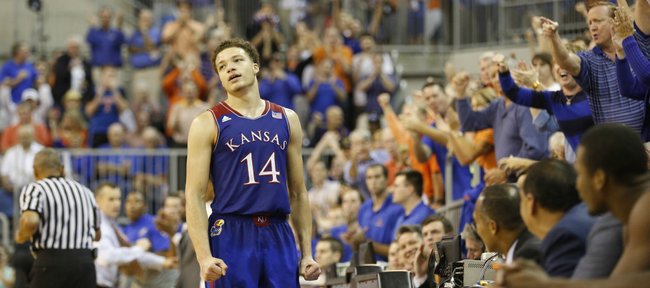 The blueprint most college basketball coaches like to follow calls for packing the early portion of the schedule with what are known as "buy games," one-and-done competitions that don't require the big school committing to return to the small school's court to complete the series. The visitor flies back home with money to help fund its athletic department.
Typically, such games are played against multi-directional schools that start with a "Northwest" or a "Southeast" and end with a "State."
Kansas University's preseason schedule is tougher than most, particularly this season. In fact, kenpom.com ranks it the 10th most difficult schedule in the nation so far, the toughest of any team ranked in the Associated Press Top 25.
Just six other schools in the Top 25 have schedules ranked in the top 100: Baylor (13th strength of schedule), UMass (27th), North Carolina (44th), Wisconsin (45th), San Diego State (66th).
The soft early schedule most teams prefer not only boosts their win-loss record, it gives young players time to adjust to the college game before entering conference play. Kansas, which started four freshmen against a Florida team that started four seniors, has no such luxury.
Kansas (6-3), which next takes on a big New Mexico squad that features three players averaging 18.6 points per game or more, has played just two teams outside the top 100 in kenpom.com's power rankings: Louisiana-Monroe and Towson. After New Mexico (27th) in the Sprint Center, KU wraps up its nonconference season in Allen Fieldhouse vs. Georgetown (ranked 25th by kenpom.com), Toledo (83rd) and San Diego State, ranked 25th by the AP.
Then KU enters Big 12 play and the only teams not ranked in the top 100 by kenpom.com are Texas Tech (124th) and TCU (197th).
"I think over time playing a hard schedule will be good for us," KU coach Bill Self said.
It's a riskier approach than easing into the season, but based on a philosophy put forth by Friedrich Nietzsche, who strangely enough was a philosopher, "That which does not kill us makes us stronger."
Normally, a team so young is at a risk of losing its aggressiveness and confidence by slipping into retreat mode, which happened in the first half Tuesday night in Gainesville, Fla. But this team has enough talent to end up on the right side of the risky schedule, enough manpower to get stronger, not weaker.
Self cited an Illinois team he had that started five newcomers, including three freshmen. The Illini's nonconference schedule was a soft one.
"They started believing they were good, even though they weren't playing great, they were just winning games," Self said. "We elected to go a different path this year."
The book is out early on the Jayhawks early. Zone them and try to make them beat you with three-pointers. Trap their primary ballhandlers. Even that can work to KU's advantage come March because it will gain more experience against zone defenses during the season and will become better at attacking them through trial and error. The same for the pressure applied to ballhandlers.
Some will find the growing pains difficult to watch, but if they bear March fruit, nobody will complain.
"Sure, we wish we were 7-2 or 8-1, but the fact is these guys have got to grow up," Self said.
Watching them grow will be fascinating because with so much talent and so little experience, the highs will be higher than most years, the lows lower, which makes predicting outcomes more difficult and watching games more suspenseful.