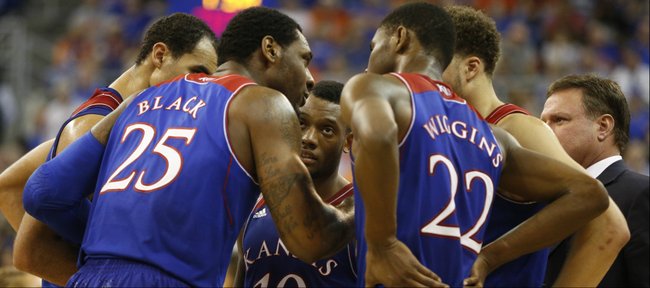 Podcast episode
Kansas University basketball coach Bill Self talks about his team's recent struggles.
Podcast episode
Sophomore forward Perry Ellis shares details of KU's recent players-only team meeting.
Kansas University's basketball players did not practice on Wednesday, the day after a 67-61 loss at Florida.
The Jayhawks did sign basketballs, however, then gathered as a group in the locker room, hoping a players-only meeting would help the (6-3) squad bust a slump that has included three losses in four games.
"Everybody got in a circle. Everybody spoke out and said what they wanted to say. (The floor was) free for anybody, even freshmen. We all just spoke out to each other, just tried to dig deep," sophomore forward Perry Ellis said.
It was reminiscent of a players-only meeting held last February after the second game of what turned out to be a three-game losing streak.
"It's definitely something I could talk about," Ellis said of last year's slide that meant nothing in the big scheme of things. KU won a share of the Big 12 regular-season title, took the conference tournament and reached the Sweet 16, finishing 31-6 overall.
"I was in that situation. I could try to help these guys out and try to show them you can turn it around. Even the hard times last season when we lost the three games (to Oklahoma State, TCU and Oklahoma), just looking up to the senior guys, they really turned it around. We all got together like this year, learned how to compete and follow what coach (Bill Self) is saying. We did everything coach Self was saying and it paid off," Ellis added.
It doesn't get easier as KU on Saturday meets New Mexico (7-1) at 6 p.m. in Kansas City's Sprint Center.
"I mean like last year, there's extra effort each of us can give," Ellis said. "To come into practice and games not thinking selfishly, just thinking of the team, just thinking about Kansas basketball."
The meeting re-energized Ellis, who said he was definitely looking forward to practices leading to the next game.
"Just hearing everybody ... everybody wants to get better and you can really see it," Ellis said. "Everybody wants to learn. I feel this will be a great opportunity to turn things around and just learn."
KU coach Self, whose 2008 NCAA title team held a players-only meeting after a crushing loss at Oklahoma State in February, never losing again that campaign, said he approved of Wednesday's team meeting.
"Those things are the most overrated things ever," Self said with a smile. "I do think it's good they talk, so I am all for that. We've had teams do that every year. You guys (media) make a big deal out of nothing. In all honesty, teams should be doing that every week. You should have some type of meeting every week and discuss certain things."
Leadership: Self said leaders must emerge and emerge soon.
"I'm talking the guy who will huddle everybody up or (say), 'Hey guys, it's all fragmented. This is what we're going to do.' We don't have that yet. When you've got three guys looking at the bench and two guys are saying, 'Well, I told them to run this, they didn't hear me.' That's frustrating. There's an effort to do what's right, but it's not being executed," Self stated.
"Naadir (Tharpe junior point guard) is the one guy who has intangibles to be that and do that," Self added. "For us to have a really good year this year, Naadir has to step up. There's no other way around it. I believe he will. He's in a little bit of a funk right now, but he's going to get out of it. ... I'd welcome anybody else, but to me, he (Tharpe) has the most qualities to do it."
Fab four: Self was asked if he'll start four freshmen (Andrew Wiggins, Wayne Selden, Frank Mason, Joel Embiid) and soph Perry Ellis a second straight game.
"We could switch up because we had some guys not play the best," Self said. "You look at it over time, what's best for our team? It's to get our best players playing their best. It's not like punishment if you go to the bench. We may have a change or two. I'm going to wait and evaluate practice the next two days."
Cliff explodes: KU signee Cliff Alexander, a 6-foot-9 senior center ranked No. 4 in the recruiting Class of 2014 by Rivals.com, scored 30 points with 24 rebounds and 15 blocks in Chicago Curie's 70-54 victory over Dunbar on Thursday as reported by d1circuit.com.
Merv's coming back: Former KU guard Merv Lindsay, a 6-7 sophomore wing from Moreno Valley, Calif., has played 16 minutes total in four of New Mexico's eight games. He has hit his one shot attempt on the season. He's 0-for-2 from the line with two rebounds.