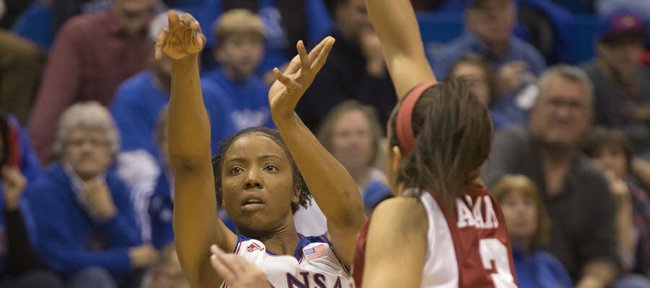 Document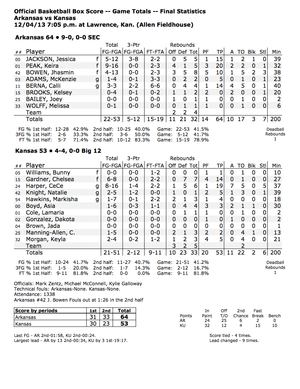 Between handling point-guard duties, leading the team in points (19) and assists (7) and finishing as the Jayhawks' second-leading rebounder (6), senior guard CeCe Harper did all she could to help the Kansas University women's basketball team battle Arkansas on Wednesday night at Allen Fieldhouse.
Unfortunately for the Jayhawks, Harper also led the team in turnovers, with five, and had difficulty getting anyone to follow her in a 64-53 loss to the Razorbacks that dropped Kansas to 4-4 and pushed Arkansas to 9-0.
"We're asking her to do a lot right now," KU coach Bonnie Henrickson said of Harper. "And we need some other people to step up."
To Harper's credit, the senior from San Antonio said she does not think about all of the responsibilities that fall on her shoulders. Of course, with everything on her plate, there really isn't time to.
"I'm just trying to do whatever the team needs me to do at any time," said Harper, who made eight of 16 shots and both free throws. "I'm trying to keep the younger people uplifted and do whatever we need."
A good chunk of Harper's points Wednesday came off of aggressive plays. Whether that meant plucking steals and getting layups on the other end or turning the corner on offense and getting to the basket, Harper consistently did what none of her teammates could seem to do. While most of the upperclassmen hung in the shadows of 1,000-point scorers Angel Goodrich, Carolyn Davis and Monica Engelman for the past few seasons, Harper is one of the few who has made the transition to picking up the scoring slack for them.
"I think everyone understands we need to do it," Harper said. "It's just the doing it."
In a game littered with turnovers, the Jayhawks coughed it up 22 times — many of them travels — and shot 41 percent from the floor.
KU delivered a 2-of-12 effort from three-point range on 51 total shots. Outside of the 14-of-24 shooting from Harper and junior forward Chelsea Gardner, who tallied 14 points and seven rebounds in limited minutes because of foul trouble, the rest of the Jayhawks made just seven field goals on 27 attempts.
Statistically speaking, the Razorbacks were not far-and-away better than KU. They shot roughly the same percentage, turned it over 17 times themselves and were out-rebounded by Kansas 33-32. The Razorbacks were better when it mattered most, both during a 12-2 second-half run that turned a one-point deficit into a 50-41 lead, and down the stretch after KU had closed within three points with two minutes to play.
"We've been in three one-possession games with under four minutes to play," Henrickson said, referencing losses to Minnesota, Xavier and now Arkansas. "And we've given up offensive rebounds."
With no interest in hitting the panic button, Henrickson said the fix for KU's current three-game losing skid was simple.
"At some point, you gotta do your job," she said. "I'm not shocked when we go into lulls and don't score, but we talked this summer about how we'd have to defend and rebound, early and often, and be solid on that end of the floor while we developed an offensive flow and rhythm and timing."
KU will host Texas Southern at 2 p.m. Sunday.