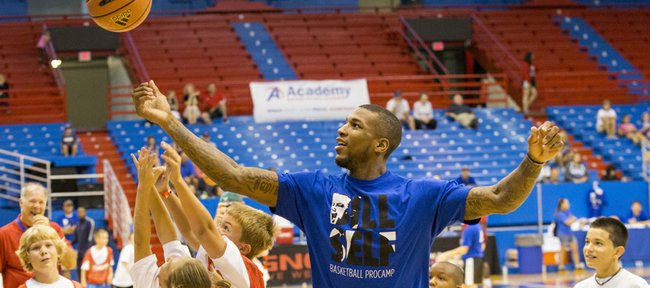 Former Kansas University power forward Thomas Robinson — the highly-touted No. 5 overall pick in the 2012 NBA Draft — was left dazed and confused after getting traded twice during his rookie season.
"You don't feel settled at all," said the 6-foot-10, 240-pound Washington, D.C., native, sent from the Sacramento Kings to Houston Rockets in February and on to the Portland Trail Blazers in July.
"It's a unique situation, but unique things tend to happen to me," the 22-year-old Robinson added Sunday at Bill Self's Basketball Pro Camp in Allen Fieldhouse. "It feels like I've been in the league five years already. It's only been one. It's a good thing. It's matured me as a player, matured me as a person. It humbled me a lot."
Robinson in one year went from a KU starter who averaged 17.7 points and 11.9 rebounds to a reserve who managed just 4.8 points and 4.5 boards for the Kings and Rockets.
The decline in productivity left Robinson searching for answers.
"I talked to (KU) coach Self a couple times this year, more than a couple actually," Robinson said. "He constantly told me the same thing he told me when I struggled before my junior year — just be a rebounder. That's what I'm going to do."
Robinson hit the boards hard, averaging 12.8 rebounds (third-best mark in league) and 10.4 points while playing five games for Portland in the 2013 Las Vegas NBA Summer League. He grabbed a single-game summer-league-high 18 rebounds to go with 12 points against the Chicago Bulls.
"One thing that describes me is rebounding. My confidence is getting back up," Robinson said.
That's in large part because ... "I think he (now) realizes who he is. He is a rebounder who can score as opposed to a scorer who can rebound," Self said Sunday. "If he can just worry about the things he can control, he'll become an even better shooter."
Robinson hit 43 percent of his shots and 52.3 percent of his free throws for the Kings and Rockets after canning 50 percent of his shots and 68.2 percent of his charities his final season at KU.
"Thomas can shoot," Self said. "Thomas for me was a volume shooter, though. Since he had the green light his last year, he knew if he missed it didn't matter because he was supposed to keep shooting.
"In the NBA, it's a little bit different when you are not the first option," Self added. "So he has to be able to make one out of two wherever he shoots from."
Of course, it's hard for a rookie to make shots when he's constantly on the trading block.
"I think his head is right, not that his head was ever bad. Sometimes when things don't go well, you get (put) in different spots, you get a little down," Self said. "I think his batteries are charged. He's excited to be in Portland. He had a great summer league. He was probably the best rebounder in the summer league. That's what I've been told. He's excited to get started. He has new representation. It seems to me he has a new lease on everything."
Robinson said he's motivated to play for the Blazers, who have made it clear he's somebody the front office values.
"I feel wanted there, which is a good thing," Robinson said. "They are young, especially with the main core guys, so I will try to go in there, find a spot to help the team. For them to come in and make me feel like it's home for me is definitely a big deal."
Robinson is eager to forget about last year — which he called a "rookie roller coaster."
"Mentally, man," he said of the key to his future success. "My career isn't over. It doesn't matter what I did last year. I need to get back to being who I am as a player. That's all I plan to do this year."
This, that: Robinson had no comment Sunday when asked for an update on his sister, Jayla, who, along with Thomas, survived the death of their mother and two grandparents during Thomas' sophomore season at KU. ... Self said it was great to work with former KU guard Ben McLemore on Saturday and Robinson on Sunday at his pro camp. "I didn't have to convince them. They want to come back," Self said. "These guys love coming back. They look for an excuse all the time to come back." ... Robinson on what he misses most about Lawrence: "Everything. I was thinking the other day about walking on campus, getting ready for the season, the Big 12 tournament ... everything."