Saturday, August 17, 2013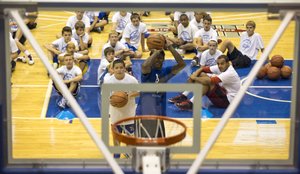 Ben McLemore, who had hoped to be selected first or second, but slipped to seventh overall in the 2013 NBA Draft, carries some added motivation into his first pro season.
"I feel I come in with a chip on my shoulder," former Kansas University guard McLemore, top pick of the Sacramento Kings in the June draft, said Saturday at the Bill Self Basketball Pro Camp for youths in Allen Fieldhouse. He is working the camp with former KU forward Thomas Robinson of the Portland Trail Blazers.
"I feel I've been through a lot. I feel I am going to work hard to get Rookie of the Year. I know the mindset I'm going to come in and show everybody I could be the alpha dog and win that Rookie of the Year. I'm definitely going to work hard to get that," McLemore added.
Someday, he hopes to make NBA franchises Cleveland, Orlando, Washington, Charlotte, Phoenix and New Orleans regret not selecting him with their first picks.
"I've got to help my team win games and be a leader," the 6-foot-5 guard said. "That's the main thing is being a leader to a team with a lot of older guys and me, understand my role and be a spark."
He believes he learned a lot about leadership at the recent week-long NBA Rookie Transition Program in New Jersey.
"I enjoyed the whole process, getting a bonding relationship with all my draft class," he said, noting he especially enjoyed a speech from the Brooklyn Nets' Jerry Stackhouse at the program, designed to teach the players about how to handle all the demands of the NBA.
"I learned so much there and definitely I could also inspire a lot of people," added McLemore, who grew up in poverty in St. Louis.
Shabazz Muhammad of the Minnesota Timberwolves was actually dismissed from the program for violating a rule and allegedly bringing a female guest into his hotel room.
"Very disappointing," McLemore said, asked his reaction. "After they (were) telling us the rules, what not to do, for him to do that ... it's just unbelievable after they just explained the different rules to us.
"Hopefully he'll learn from his mistakes. Hopefully that won't stop him from being the basketball player who he is, just keep playing, going with his career."
Since the early-August transition program, McLemore has been shopping for a house for his mother "somewhere outside of St. Louis" and also a house or condo where he'll live in Sacramento. He didn't want to miss the opportunity to attend Self's camp in Lawrence.
"Coach Self ... after I entered the draft he said he'd love for me to come back and work his camp. I told him I would and I'm here," he said. "The beauty of it is getting to know different types of kids and having fun with the kids. That's the type of person I am. I like to have fun, enjoy myself and interact with kids.
"I love coming back here," added McLemore, who turned pro after his red-shirt freshman season. "There's nothing (better) than coming back to Lawrence, having all your fans and friends here supporting you all the way. Being back and being able to be around coach Self is a blessing. I loved my time being here with coach Self and being coached by him."
He said next year's hot NBA prospect, freshman Andrew Wiggins, also will benefit from working with KU's coaches.
"I met him when he first got here (June). We played pickup and stuff. He was nice," McLemore said. "It's a great opportunity for him picking KU. He's in a perfect spot with coach Self."