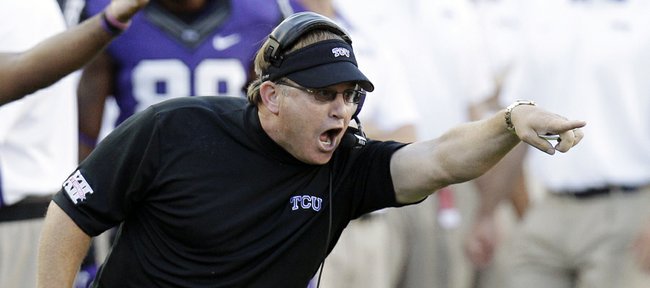 TCU football coach Gary Patterson knew the 2012 season was going to be a challenge for his Horned Frogs in their Big 12 debut.
And in just about every way imaginable it was.
After enjoying a stretch of four straight seasons with 11 wins or more, TCU finished 2012 7-6 overall and 4-5 in the Big 12 and had its share of off-the-field issues, as well.
As Patterson and crew prepare for Year 2 in their new conference — the media picked TCU third in the preseason poll — the butterflies that came from jumping up to play with the big boys are gone and Patterson's crew is focused on getting back to the kind of football that made it one of the most successful programs of the past five seasons.
"We're excited," Patterson said. "Being in the Big 12, knowing a little more about it, buying less diapers, we're not quite as young of a football team as we were a year ago."
A big chunk of the reason for that is the return of quarterback Casey Pachall — a senior, who played four games in 2012 but was suspended for the rest of the season because of off-the-field conduct issues — and the experience gained by dynamic back-up Trevone Boykin, who took over the quarterback duties in Pachall's absence.
Patterson has not tipped his hand about which guy would be the man for the Horned Frogs this season.
"I think you have to get ready for both of them," he said. "Just like we've done for other schools in this conference."
Patterson said he was excited to have Pachall back, but added that returning to the sideline is only part of the challenge.
"I tell people all the time, it's his job and my job," began Patterson, linking Pachall's expectations to those of his team. "If you pick me high, prove me right; if you pick me low, prove me wrong."
One of the things that could dictate just how high or low the Horned Frogs finish this fall is the performance of their defense.
Throughout TCU's rise to college football relevance, Patterson's teams were known for playing tough, hard-nosed defense.
Although the 13th-year coach has increased his input on the offensive side of the ball to keep up with the high-scoring Big 12 teams he faces, Patterson said he would love to be able to hang his hat on defense once again, starting with this season.
"I don't think there's any magic formula," he said. "But you can't allow offenses to dictate. You've got to be able to practice so you can be as multiple as what they are on offense and be able to call it just as fast."
TCU opens the 2013 season against SEC powerhouse LSU on Aug. 31 in Dallas.