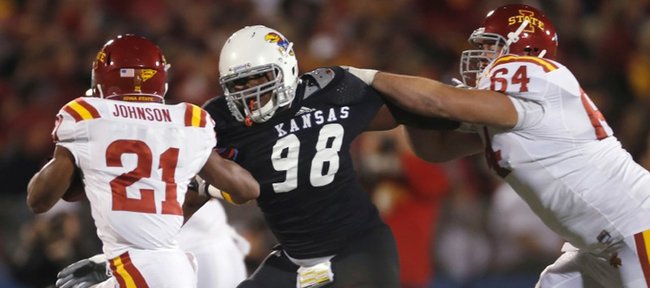 It takes a lot to impress legendary retired high school football coach Jimmy "Moose" Wallace, winner of four state titles in South Carolina and former coach of 10 NFL players. Yet, the young man sitting across the lunch table from Wallace last Thursday afternoon wowed him so much the coach said it "brings cold chills to my body," just talking about his progress.
Kansas University junior defensive tackle Keon Stowers opens fall camp as a projected starter, is on a path to earn a degree in sociology and already is in demand as a speaker at various schools back home in Rock Hill, S.C.
"He has some story to tell," Wallace said.
And Stowers is more than happy to tell it. The more people who hear it, he figures, the better chance troubled youths will use it as inspiration to right their compasses the way he has. During a series of short one-on-one interviews during media-availability sessions throughout the school year, Stowers did not spare specifics in discussing what home life was like for him.
A chronic truant, Stowers didn't play football as a freshman and sophomore in high school. Trouble, not teammates, kept him company. Two men and a sport that centered him came into his life in his junior year, and that's when he began heading in the right direction. Stowers left his broken home before he graduated high school. A high school teacher of his, Larry Shaw, became his legal guardian and his academic conscience. Stowers' girlfriend's family gave him a place to stay.
"I remember I picked him up to take him different places," Shaw said. "There wouldn't be any lights on in the house. He'd come to the door and you could tell there were no lights, no electricity on in the house."
Perhaps that was a blessing. The lack of light made it more difficult to see things nobody of any age should have to see, much less a teenager in his own home.
"I like sharing my experience with kids," Stowers said. "Not telling them to leave their parents, but just to show them that there is actually a better world out there. It's a better world than waking up and seeing a passed-out crack-head on your couch, someone you don't even know passed out in your living room. No food in the refrigerator. Your mom has sold all the food stamps. It's bad enough that we're already on food stamps and then your mom sells all of them and now you don't have food in the house for the whole month."
Nobody wonders why he found trouble, avoided school. It's where he is today that makes those who know his background marvel at his ability to rise above his circumstances.
"Taking all that from my childhood, I kind of use it as motivation," Stowers said. "I tell myself I'm not going to be like that. I'm not going to be one of those guys who's standing on the corner talking about what they could have been, or what they should have been. I want to make my family proud."
His mother and father both are locked up. His father is serving a 20-year sentence at Tucson Federal Correctional Institution in Arizona, for drug and weapons offenses, his mother nine years in Greenwood, S.C., on a drug conviction, according to the The Herald, the newspaper in Rock Hill, S.C.
Dogged by self-doubt
It would be nice to report that Stowers went to sleep one night headed down the path his family set for him and woke up the next morning walking in the opposite direction and hasn't had any heartache since. It never works that way.
"Keon was in trouble, trouble, trouble and I told him you have to play football," Wallace said. "He came out. He really got engaged in it. Football became his family. He started coming to school every day. He started doing things we asked him to do, lifted weights, everything. He became a leader. Then he missed three days of school."
Wallace dispatched the school's truant officer to Stowers' house.
"He brought Keon to my office," Wallace said. "He's hyperventilating, crying, screaming. I said, 'What's wrong, Keon?' He said, 'Coach, my daddy just got life.' I said, 'Wow.' It just killed him, knocked him down."
Wallace recalled part of their exchange.
Stowers: "I'm a loser. I'm no good. I can't make it."
Wallace: "Wait a minute, son. You don't believe that. I don't believe that. You do everything we ask you to do in this program, you're on time every day to school, you lift weights, we'll do this."
Stowers, then 245 pounds, now more than 300 pounds, played linebacker in two state championship games for Wallace.
With Larry and Pam Shaw leaning on him to do his schoolwork, Stowers graduated from Northwestern High, but still didn't have the academic profile to attract the attention of four-year colleges. Stowers attended Georgia Military Academy, a junior college.
"Formation in the mornings, dinner time had to be in uniform, room inspections, learned how to iron his shirts, polish his shoes, strict military environment," Shaw said. "That was good for him."
He didn't play football his first year there because of a back injury.
Stowers wanted a new, more structured life, but living and studying in such a strict environment rekindled self-doubts.
"He called me and said, 'Mr. Shaw, I can't make it.' I said, 'That's just your feelings right now. You can make it,'" Shaw said.
He not only made it, he played football so well during his second year that he began to draw attention from Division I schools. Shaw, who accompanied Stowers on all of his campus visits, said Kansas quickly became the school to beat. Iowa State, Louisville, South Alabama and Troy also scheduled home visits.
The Road to Kansas
Strike 1 for the other schools recruiting Stowers: Reggie Mitchell made a trip to Rock Hill, S.C., before Kansas had fired Turner Gill. Mitchell has a gift for developing relationships in such a way as to make a recruit feel as if he had known him all his life. Opposing coaches get nervous when they catch wind of Mitchell recruiting a player they're courting.
Strike 2: Shaw said he devoted most of his energy on the recruiting trip gathering information about each school's academic support system.
"He didn't need someone to show him how to play football," Shaw said. "He needed someone to continue to instill discipline in him the way Georgia Military did. He needed someone to help him get a degree. The impression I took away was that Kansas has some of the best student support, the best tutoring, of any school in the country."
Strike 3: New head coach Charlie Weis paid Stowers a home visit.
"When they made the Weis hire that was the icing on the cake," Stowers said. "The first week he was able to recruit he came to my house fresh off hip surgery, walking with a cane. That just showed me if this guy is doing all this he really wants me to be part of something special. I took that and I ran with it. I told him, 'I'm coming here and giving you my all.'"
'As good as it gets'
Both Wallace and Shaw said that when Stowers calls home now it's to share with pride his grades, how happy he is at Kansas, how well his football frame and game are progressing.
"The guys at the University of Kansas, he loves them," Wallace said. "He loves the D-line coach (Buddy Wyatt). He thinks the world of coach (Dave) Campo. And he really loves coach (Charlie) Weis. And he thinks the strength coach (Scott Holsopple) is great at what he does. It's amazing how much he's matured, how much he's grown up, how much he's developed. He's always been assertive and always wanted to do well, but that school's done wonders for that young man."
The feeling is mutual.
"Keon Stowers has been ruining practice, which is a good thing for the defense," Weis said during spring football.
Meaning?
"That means he's in the backfield every time you turn around," Weis said. "Off the ball, he's lightning quick. He makes plays. He plays with enthusiasm. He's infectious to be around. He's been as good as it gets."
Wallace recounted a conversation he had with Stowers at their recent lunch.
Wallace: "You know, Keon, the Lord's blessed you and you've come a long, long way."
Stowers: "I know."
Wallace: "Those guys who have never been cold and never been hungry don't know how to respond."
Stowers: "Yes sir."
"He's remarkable," Wallace said. "I love him. He's like my son."
Shaw too swells with pride at Stowers' growth.
"He could be sitting in a jail cell somewhere and nobody would have been surprised," Shaw said. "Most of us are a product of our environment. You've got to break that cycle, and he had a lot he had to break. He's doing it and giving it everything he has. All he has to do now is continue on the path he's on. We knew he could do it. I'll just pray it continues."