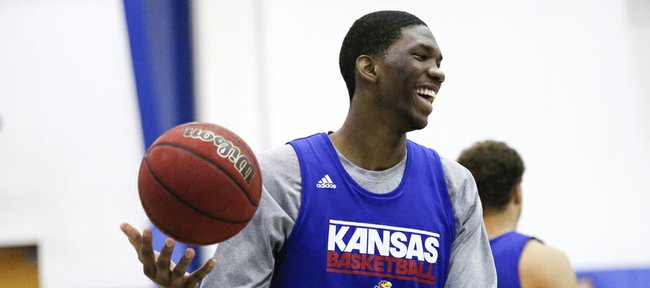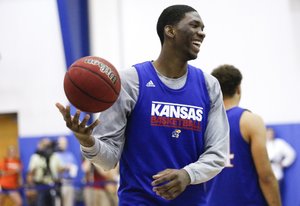 A certain amount of mystery always accompanies college athletes in their first seasons on campus. Even a recruiting class as accomplished as the one hauled in by basketball coach Bill Self comes with questions only performances in games against quality opponents can answer. Such as:
Will Andrew Wiggins display a soft-enough shooting touch to complement his explosive moves to the extent he leads the team in scoring?
Can Conner Frankamp defend well enough against much thicker, stronger players to earn significant playing time so that he can showcase his extraordinary range on such a pure jumper? Defensive readiness will also be the issue for how soon sweet-shooting Brannen Greene earns big minutes.
Will quick, strong pure point guard Frank Mason show enough confidence out of the chute to challenge Naadir Tharpe for the starting assignment? A year ago, the Michigan State game exposed freshman Perry Ellis as not yet ready to own a starting assignment.
Can't think of any questions with Wayne Selden, an explosive 6-foot-4, 225-pound wing armed with a pure three-point touch, except the one that can be asked of any freshman: Will being surrounded by so much talent make him better, or will he struggle with not having everything revolve around him?
Interesting issues to monitor, all of them, but without question the most compelling development to watch will be that of center Joel Embiid, so remarkably talented and so very new to the game. He qualifies as this team's X factor and the burning question boils down to this: Can Embiid — a smart, coordinated, naturally skilled athlete — progress in one season from a "See Jane run. Run, Jane, run" understanding of basketball enough to win battles against comparative Tolstoy scholars?
Nobody seems to doubt he one day he will make an exceptional NBA center, and that's part of what makes the essential question about him so difficult to answer. His ceiling is so high that he will get picked extremely high in the draft as soon as he's eligible, after his freshman season.
How high?
Rick Pitino, coach of defending national champion Louisville, said, "I think Kansas could have the No. 1 and No. 2 picks in the draft with Wiggins and Embiid. (Embiid) does everything."
But will he already be able to do it on the blocks, where most of his opponents will be shorter, but also more in tune with the sumo-wrestling moves required to establish position the way the game is played today?
A 7-foot, 250-pounder from Cameroon who played soccer and volleyball — oh, no, will the announcers mention the volleyball connection every time he blocks a shot, a la Jeff Withey? — Embiid was born to play basketball, he just didn't know it until he took up the sport competitively just two years ago.
At a similar stage in his career, Hakeem Olajuwon (then spelling his first name Akeem) averaged 8.5 points, 6.2 rebounds and 2.5 blocks in 18.2 minutes per game for the University of Houston. Nice production for a red-shirt freshman and former soccer goalie who picked up basketball at 15. He quickly developed into one of the greatest centers in the history of the game. If Embiid could match Olajuwon's freshman numbers, sometimes playing with senior Tarik Black, sometimes instead of him, that would portend future stardom for the friendly shot-blocker.
Embiid is fortunate to play at a school that qualifies as one of the best big-man camps on the planet because he competes against other quality post players daily, but he has so little experience.
Skilled and athletic, smooth and long-limbed, Embiid has all the qualities that one day could translate to greatness. Watching whether that day will come soon enough to help Kansas significantly qualifies as the most compelling aspect of this coming season, which is packed with fascinating story lines to track.