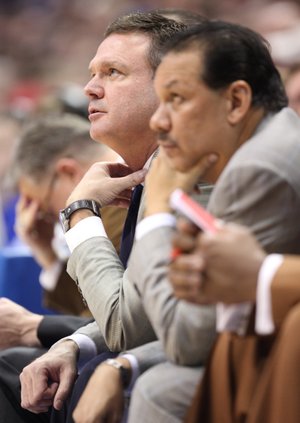 ESPN's summer survey of more than 200 college basketball coaches says the No. 1 recruiter of all assistant coaches in the country is ... 10th-year Kansas University aide Kurtis Townsend.
"That just means I've been doing it a long time and everyone else got head-coaching jobs," Townsend said Wednesday after learning he outdistanced runner-up Mike Hopkins of Syracuse, Kevin Keatts of Louisville, Butch Pierre of Oklahoma State, Orlando Antigua of Kentucky and 16 others in a group of 21. KU's Jerrance Howard checked in at No. 12.
"I've got a lot of friends. Those guys must want me to get a head job, too," Townsend added.
Townsend was KU coach Bill Self's lead recruiter of No. 1 prospects Andrew Wiggins and Josh Selby, plus Sherron Collins, Darrell Arthur, Julian Wright, Jeff Withey and others
"The list for Townsend — who also spent time at Michigan and USC — is pretty darn impressive: Andrew Wiggins, Sherron Collins, Darrell Arthur, Julian Wright, Brandon Rush, Jeff Withey at KU and Jamal Crawford and Lavell Blanchard at Michigan," wrote Jeff Goodman of ESPN. "He also got some quality talent in his tenure at USC. Townsend gets after it, has strong connections throughout the country and has one of the best brands — and head coaches — to sell."
Townsend said he was honored to be named top recruiter by his peers.
"I'm working for a pretty good place to be able to get the No. 1 (distinction)," Townsend said. "It's not as hard to recruit here as a lot of other schools.
"We 'group recruit' everybody," Townsend added of all staff members being involved in the pursuit of players. "Coach Self is one of the best head coaches to recruit to. He's going to get on the phone and call. He's going to talk to the parents. He's going to talk to the kid. All that makes it a whole lot easier. It's nice they did that (survey), but it isn't me. Trust me."
Of KU coaches, he said: "Dooley (Joe, now at Florida Gulf Coast) did great. Obviously Jank (Tim Jankovich, SMU) and Danny (Manning, Tulsa) did great. In Norm (Roberts) and Jerrance, we've got two great recruiters. It'll make it even easier, I hope."
Townsend, a 1982 graduate of Western Kentucky, said he never tires of recruiting.
"I love talking to these kids and talking to parents and meeting people and developing new relationships," he said. "Even with this new class (six incoming freshmen) ... it invigorates you every spring and summer that you've got these new guys you start getting the on phone with. I still enjoy it. I think when I get tired of it, it'll be time to do something else. Right now, I love it."
For ESPN's top 21 recruiters go to the web address http://es.pn/13A2O5b
Eleven on Vaughn's list: Rashad Vaughn, a 6-foot-5, 200-pound senior shooting guard from Findlay Prep High in Henderson, Nev., on Wednesday cut his list of prospective schools to 11: KU, Minnesota, Baylor, Iowa State, Kentucky, North Carolina, UConn, UNLV, Arizona, Georgetown and UCLA. Rivals.com's No. 7-rated player nationally is all-time leading scorer at Robbinsdale Cooper in New Hope, Minn.