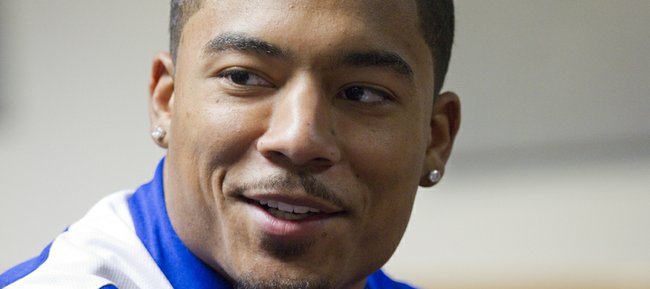 Most — but not all — of Kansas University's football players recently headed home to recharge their minds and bodies after an intense summer of workouts, conditioning and classes.
Junior safety Cassius Sendish hopes they remember the point of all their hard work.
"What we need to do is constantly remind ourselves what we're doing everything for," said Sendish, a junior-college transfer who was one of four Jayhawks selected to represent the program at Big 12 media days in Dallas last month. "Just that constant reminder that we're putting all of this work in to change how people look at the Kansas Jayhawks football program."
Recent reports from social media sites such as Facebook and Twitter indicate the Jayhawks are eager for the start of fall camp, which opens Wednesday. Apparently, the Jayhawks can't wait to begin erasing the memories of last year's 1-11 season.
"I think in the time I've been here at Kansas, I've really bought into everything that's going on and really taken ownership of myself," QB Jake Heaps said. "I'm just constantly working to become the best I can be and help my teammates become their best. We've done so much this offseason, and I think it's really gonna help us be ready for this year."
Being ready is one thing. Being competitive in the ultra-tough Big 12 Conference is another. That's why Sendish and the rest of this team's leaders made sure to send everyone home with a message and motivation for the days leading up to camp.
"We all have the same common goal," Sendish said. "And it's production. Now we just need to produce."
Who's left?
Nearly all of the incoming junior-college transfers have made their way to Lawrence. But there are a few out there who have yet to arrive. Here's a quick update on each:
Andrew Bolton — Defensive end from Hinds (Miss.) Community College has been quiet since signing day, but all indications suggest he'll report in time for camp.
Rodriguez Coleman — Garden City C.C. wideout has been taking classes throughout the summer and has posted on Twitter about an Aug. 4 arrival.
Nick Harwell — Senior wide receiver who transferred from Miami (Ohio) University is still fighting for immediate eligibility but plans to be in Lawrence on Tuesday regardless of his status.
Brandon Hollomon — Pierce College (Los Angeles) cornerback has been taking summer classes in his hometown of Philadelphia and recently posted on Twitter that he'd arrive in early August.
Isaiah Johnson — Iowa Western safety spent the summer taking classes and may just be waiting for the OK to head to Lawrence.
Kevin Short — Fort Scott C.C. cornerback has been hitting it hard in the classroom as recently as this week to clear the way for him to report in time for camp.
Pearce Slater — El Camino (Calif.) C.C. offensive tackle does not finish summer classes until Aug. 8 and is expected to arrive during the first week of camp.
Dates to remember
As the calendar turns to August, it's time for a quick refresher on some of the key KU football dates this month:
Aug. 7 — Fall camp begins
Aug. 12 — First day of practice in full pads
Aug. 16 — KU Kickoff at Corinth Square in Prairie Village
Aug. 17 — Fan Appreciation Day. Practice open to the public from 11:15 a.m. to 1:15 p.m.
Aug. 22 — Professor Appreciation Day. Practice open to KU faculty
Aug. 25 — KU Day at Kauffman Stadium
Aug. 31 — Bye week. KU sits while most of the rest of the nation's teams get the 2013 season under way.
KU will open the season at 6 p.m. Sept. 7 vs. South Dakota.