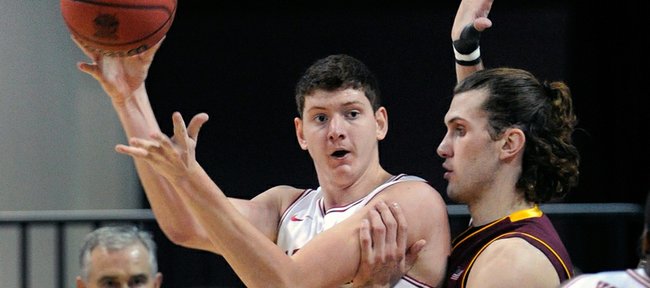 Packing on the pounds is generally considered a good thing for a lanky, 6-foot-10 college basketball big man.
Not so — at least so far — in the case of future Kansas University power forward Hunter Mickelson, who apparently lost some effectiveness after going from about 220 pounds to 245 his freshman to sophomore season at the University of Arkansas.
"He was a little lighter his freshman year," Doc Harper, writer for Sporting Life Arkansas, said in a phone interview with the Journal-World. "I remember one game clearly. He was playing against Vanderbilt, caught a pass down low against a player bigger than him, spun around and dunked it. The past year, especially in the conference (SEC) season, he didn't do that.
"Some people said he gained some weight trying to be a better post player. It hampered his athleticism. He was not as effective."
Mickelson last week announced plans to transfer to KU. He'll practice next season but not play in games then have two seasons of eligibility remaining.
He averaged 5.5 points and 3.5 rebounds a game his sophomore season after averaging 5.2 ppg and 3.7 boards his freshman campaign.
"He broke the freshman shot-block record at Arkansas set in 1988 by Oliver Miller (72). They put 25 pounds on him, (and) it slowed him down," said Mickelson's dad, Darien, estimating Hunter's current weight at 235 pounds.
"When he was a freshman, he was an elite shot-blocker," Doc Harper said. "This past year, a lot of people say that after the weight gain, (he) was not as explosive, couldn't get up as quickly, get over as quickly (in blocking just 39 shots)."
Mickelson, who is known as a big man who can stretch the defense, likely will need to improve his aggressiveness in the paint. That often happens once a player enters the program of KU strength-and-conditioning guru Andrea Hudy, known for getting post players such as Cole Aldrich, Markieff Morris, Jeff Withey and others at the optimal playing weight for their body types and skill sets.
"He became a good free-throw shooter," said Harper, "but he didn't get to the line very much (hitting 16 of 20 free throws last season). He's not the most assertive, aggressive player. His jump shot is a line drive, not the prettiest shot. It is effective at times. He has a decent 10- to 15-foot jumper from the wing. At times it's been good, but inconsistent."
Mickelson hit 77 of 161 shots a year ago for 47.8 percent. He missed six of seven three-point tries, thus his percentage on two-pointers was 49.4.
"For whatever reason, he never became comfortable. He had a lot of hype out of high school," Harper noted of the Jonesboro Westside grad who was ranked 100th nationally by Rivals.com. "As a freshman, the fans loved him. This year, the fans were frustrated. He wasn't becoming what everybody thought he'd become.
"Especially at the end of the year (after losing starting spot in lineup 10 of the last 11 games), when he tried to drive a lot of times, he turned the ball over, not drawing fouls, not blocking shots, not rebounding. Everybody seemed to like him. Everybody hopes he does well. Nobody I know ever had anything bad to say about him personally."
Harper has not given up on Mickelson.
"I'm interested in seeing what happens (at KU). A lot of people think he does have talent and maybe the style of play was not a good fit (at Arkansas)," Harper said. "They (Jayhawks) have a reputation of developing big men, and he could flourish in a system where according to him he'll be able to face the basket more and a lot of people think he can do well. I do think there's talent there, more talent than showed this year."
Frantic finale: ESPN's Dave Telep reports that KU coach Bill Self was mighty busy Wednesday, the last day in the spring coaches could enter the homes of recruits. Telep said Self visited Kelly Oubre, a 6-5 junior from Bush High in Richmond, Texas, who is ranked No. 27 nationally by Rivals.com; Justise Winslow, 6-5 junior from St. John's High in Houston who is ranked No. 10; and University of Memphis junior Tarik Black, 6-9, who is considering KU, Duke and others.