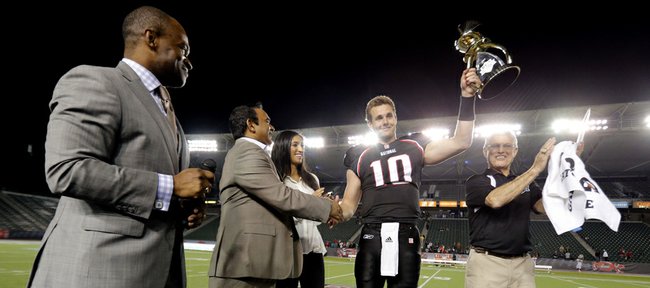 He was benched midway through a disappointing 2012 season, never regained the five-star form he had out of high school and finished his college career with little hope for a pro career.
But even with all of that stacked against him, former Kansas University quarterback Dayne Crist on Saturday night fielded a call from the Kansas City Chiefs and accepted an invitation to mini-camp in a couple of weeks.
"I am incredibly grateful and thankful for the opportunity to continue pursuing my dream," Crist said Sunday night from California. "I can't thank my family, friends and coaches enough for helping me reach this point."
After a five-year college career that had more lows than highlights and tested him in every way imaginable, the 6-foot-4, 235-pound former Notre Dame quarterback somehow finds himself in the same position his five-star pedigree and sterling high school statistics led many to believe he would be in when the ride began prior to the 2008 season: in an NFL camp, competing to make a roster.
In many ways, the undrafted-free-agent route could not have worked out better for Crist. In Kansas City, Crist will compete with career back-ups Chase Daniel and Ricky Stanzi, as well as second-year pro Alex Tanney and fellow undrafted free agent Tyler Bray, out of Tennessee, for roster spots behind new starter Alex Smith.
Crist will not be alone on the quest. Fellow Jayhawks Bradley McDougald, a safety who signed a free-agent deal with the Chiefs after the completion of the draft, and Toben Opurum, a defensive end/fullback, who like Crist, received an invitation to camp, also will report to Kansas City's mini-camp on May 9.
"I'm just excited to have an opportunity," Opurum said. "Plenty of athletes in this country could be given a chance, and it's a blessing that multiple guys from KU were able to get that chance, despite how the season went."
Patterson stays positive
Former KU wide receiver Daymond Patterson is one of a handful of Jayhawks still looking for an opportunity in the NFL. Patterson, a 5-8, 180-pound play-maker, said his agent had talked to a handful of NFL teams and was continuing to let them know the Mesquite, Texas, native is still out there.
Known throughout his career for his active Twitter presence, Patterson has been open about his appreciation for the love and support he has received from friends, family and fans since the completion of last weekend's draft.
"It was disappointing not getting picked up by now, but life goes on," he said. "When I first got to KU, I didn't think I was gonna play right away, I didn't think I was gonna be switched to defense, and I didn't think I was gonna play for three head coaches, five quarterbacks and five position coaches either.
"But I didn't question things then, and I'm not gonna question what's happening right now. I'm just gonna put my head down and keep going to work."