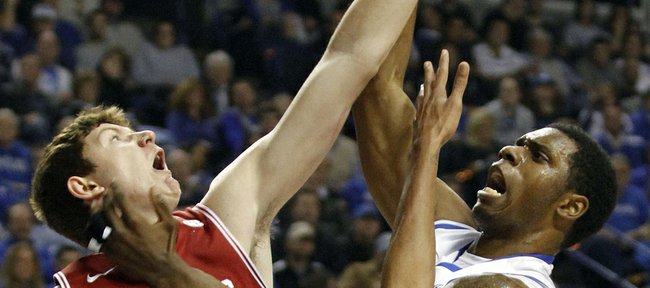 Kansas coach Bill Self announced the addition of Arkansas 6-foot-10 transfer Hunter Mickelson on Friday morning.
Self was asked Friday afternoon if Mickelson had a similar skill-set to former KU center Jeff Withey.
"Not really. Not as tall, and he's more agile than Jeff, and he's probably more of a perimeter player than Jeff," Self said. "But from a shot-blocking standpoint, you can say he's a poor-man's Jeff. He's an excellent shot-blocker."
Mickelson will have two years of eligibility for KU after sitting out the 2013-14 season. He averaged 5.3 points, 3.6 rebounds and 1.7 blocks per game in his two seasons at Arkansas.
"He's thin, but he's got a good body," Self said. "I think he needs to spend a lot of time with (strength) coach (Andrea) Hudy in the weight room. I think the biggest thing he's got to do is get comfortable with our system and really get his confidence back to where it was out of high school, because he was a very, very, very good player out of high school."
Self said the process moved quickly, as the coach called Mickelson the day after he sent his release.
"Hunter had other options, but I think his first option all along was Kansas," Self said. "I really believe that he thought we were a great fit for him coming out of high school, but he just wanted to stay closer to home."
KU has two scholarships still remaining, and as of now, Self said he would still consider both high school players and transfers.
When asked if he'd feel satisfied heading into next season with the players he has signed now, Self said: "Absolutely, but I think the current roster could add a piece or two to make it great. ... If we were able to steal one or two more, I think our recruiting class would be as good as we've ever had here."
More on filling assistant coaching position
Self said he was still early in the process of looking for a replacement for assistant Joe Dooley, who left to become Florida Gulf Coast's head coach last week.
"I'm not even to first base on what I'm going to do on that yet," Self said.
The coach did say he was going to hire someone from outside the program and that it wouldn't be an in-house promotion. That rules out former Nebraska coach Doc Sadler, who was hired last season as KU's director of basketball operations and is still on the staff in that role.
"Doc and I have visited, and I do know this: that I really, really, really enjoyed having him around," Self said. "I don't know. He's probably got to do more than what he's done for us, to be honest with you. He was a big asset to us in that position, but he wants to coach, so we'll see how that plays out."
With the new assistant coach, Self said he was looking for "somebody that's very well-rounded, that will bring energy and enthusiasm, be a good on-the-floor coach, and then also be a guy with excellent contacts in areas in which we need contacts."
In a tweet sent Friday afternoon, ESPN.com's Jason King listed Texas A&M; assistant and former KU staffer Kyle Keller and SMU assistant Jerrance Howard as potential candidates for KU's opening.