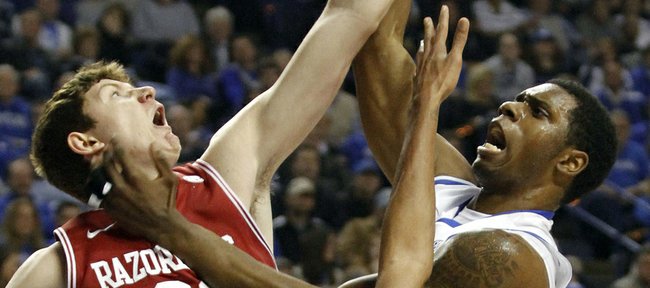 A native of Jonesboro, Ark., Hunter Mickelson grew up a fan of the outdoors and of the University of Arkansas Razorbacks.
"Hunting, fishing, playing basketball and going to school ... that's about all I've been doing since I've been here," said the 6-foot-10, 235-pound sophomore power forward, who on Thursday announced his decision to transfer from Arkansas to Kansas University for the final two years of his college basketball career.
Mickelson, who broke Arkansas' freshman shot-block record (72) two seasons ago, averaged 5.4 points and 3.5 rebounds his sophomore season (16.6 minutes/game), while never really adjusting to coach Mike Anderson's pressing style of play.
"He is a great coach. It probably is a good style for big men, but it just wasn't for me," said Mickelson, who, as Rivals.com's No. 100-rated player in the high school recruiting Class of 2011, chose John Pelphrey's program over KU, Florida, Baylor, Arizona, Kentucky and 19 others who offered scholarships. Pelphrey was fired before Mickelson's freshman year.
"KU was my No. 1 choice out of (Jonesboro Westside) high school, but he is a homestate kid and wanted to play for the Razorbacks. We gave that a try even though we knew the system and style probably wasn't the best one for him," said Mickelson's dad, Darien.
"KU is a good fit with the type of players he (Bill Self) turns out as far as the Cole Aldriches and Jeff Witheys," Darien added. "The storied tradition of KU basketball … it is like Notre Dame football. It doesn't get any better than that. The biggest factor is, KU really recruits itself, but just being on the court with three or four other high-quality talented kids makes everybody better. You can't have the success and history and expectations maintained that many years by not doing it right."
Mickelson, who will practice but not play in games next season in accordance with NCAA rules, chose KU as a transfer destination over finalist Butler. He and his dad have never been to Lawrence.
"Just because of the tradition they have ... the opportunity to get to play in a national championship or play deep in the tournament ... that's all I wanted," said Hunter Mickelson. His career high in points is 16 vs. Robert Morris and rebounds 13 vs. Northwestern State.
"They always play tough. They have great home games, great road trips. They've won a bunch of conference titles back to back. I wanted to be part of that."
"It happened fairly quick," Hunter added. "We talked about it a little while, me and my family, discussed the options and decided Kansas was the best place."
Mickelson said his strength right now is defense. He will work on "my post presence, I imagine, being consistent from inside and outside, getting my quickness more than it is."
He trusts KU coach Bill Self to help him in all areas.
"He is really smart, knows how to play the game, how to handle things. I'm definitely ready to go to work and be a part of it," Mickelson said of Self.
His previous coach, Anderson, recently said: "Hunter is a fine young man who represents the Razorbacks well both on and off the court. He has improved as a player during his two years at Arkansas, and I wish him the best as he pursues his degree and basketball career elsewhere."
Mickelson will be on scholarship during his red-shirt season, meaning KU has two scholarships left to give this spring. KU is recruiting former Memphis forward Tarik Black and has reportedly shown interest in former Alabama guard Trevor Lacey. KU also is in the running for No. 1-rated prep Andrew Wiggins.
KU vs. Merv: KU will play the University of New Mexico on Dec. 14 in Sprint Center in Kansas City, Mo. It will be a one-time game with no return game to UNM. Former KU guard Merv Lindsay will be eligible at New Mexico next season. KU will play Duke in Chicago next season, travel to Colorado and Florida, play Georgetown and San Diego State at home and play in the Battle 4 Atlantis.
He tweeted it: "Kansas has landed a key addition in Arkansas transfer Hunter Mickelson. He'll fit much better w/ Bill Self's system," said Jeff Goodman of cbssports.com. CBS' sources said Mickelson tried to get out of his letter of intent when Pelphrey was fired, but was denied by coach Anderson. Mickelson's recruiting class included Devonta Abron (now at TCU), B.J. Young (recently declared for NBA Draft) and Kyle Madden, who remains at Arkansas.