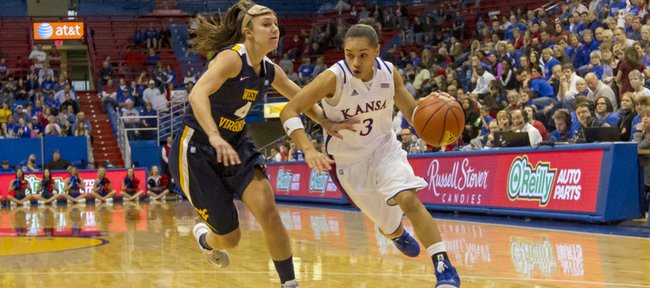 Angel Goodrich, the all-time assist leader in Kansas University women's basketball history, became the sixth KU player to be chosen in the WNBA Draft, when the senior point guard was tabbed as the 29th pick overall by the Tulsa Shock in the third round of the WNBA Draft on Monday night.
Goodrich is from Tahlequah, Okla. Goodrich joins Notre Dame's Skylar Diggins as the two Tulsa draft picks this season. The two point guards faced each other in the regional semifinal on March 31 in Norfolk, Va.
"It was neat to see my name pop up," Goodrich said. "There was a lot of waiting and some anxiety, but as soon as (my name) came up my heart just started pounding. It's awesome that I will be so close to home. This is such a blessing, because it's so close. It's right there. There will be a lot of people supporting me and cheering me on. This is really a dream come true."
Goodrich finished her career with 1,262 points and 771 assists, the third-highest total in the Big 12 Conference history.
The 5-foot-4 guard ranked second in the conference in both assists and steals. She averaged 7.2 assists per game, while posting 2.8 steals per contest. Goodrich was second on the Jayhawks' squad with 14.1 points per game and led the team with 58 three-point field goals.
Goodrich became the first Jayhawk selected in the WNBA Draft since the Connecticut Sun selected Danielle McCray with the seventh pick of the 2010 draft. Other Kansas players drafted into the WNBA include Tamecka Dixon (Los Angeles Sparks, 14th, 1997), Lynn Pride (Portland Fire, seventh, 2000), Charisse Sampson (Seattle Storm, 25th, 2000) and Jaclyn Johnson (Orlando Miracle, 2001).
Lynette Woodard (Cleveland Rockers, Detroit Shock), Angela Aycock (Seattle Storm, Minnesota Lynx, Houston Comets) and Nakia Sanford (Washington Mystics, Phoenix Mercury, Seattle Storm) have suited up in the WNBA despite not being drafted. Sanford just signed with the Storm in February, while McCray is still with the Sun but will miss the 2013 season after suffering an Achilles tendon tear a couple of weeks ago.