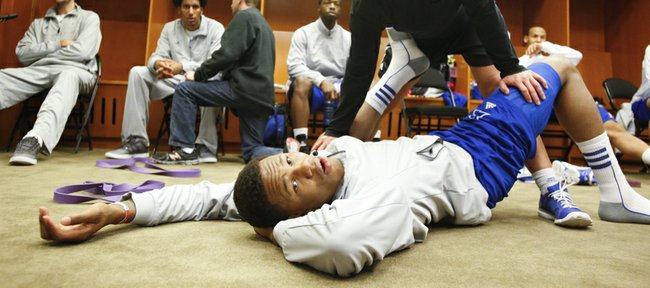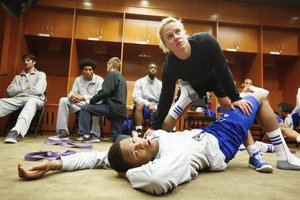 A lot can, and will, change between now and June 27, the date of the 2013 NBA Draft.
But as of today — well before the NBA combine and prospects' trips to team camps for individual workouts — things are looking up for 20-year-old millionaire-to-be Ben McLemore.
"McLemore and (Nerlens) Noel (6-11 freshman, Kentucky) will go 1-2 in the draft. Noel will probably be the No. 1 pick despite his injury," an NBA talent evaluator who cannot reveal his identity (in accordance with NBA rules) told the Journal-World.
Noel is recovering from a torn ACL, while the 6-foot-5 McLemore is healthy.
"McLemore is a better version of Ray Allen. He will play shooting guard the way it is supposed to be played," the talent evaluator said. "The only negative to his game is sometimes he defers. He could definitely use another year in college to learn to take over games.
"Obviously, he had to go (pro)," the scout quickly added. "The draft is only about potential now."
This unnamed NBA official said this year's No. 1 draft pick would be Huntington (W. Va.) Prep senior Andrew Wiggins if players were allowed to head directly from high school to the pros. The 6-foot-7, 190-pound Wiggins has a final list of KU, Kentucky, Florida State and North Carolina.
"I've heard 20 teams say they'd take him right now and start him," the talent evaluator said.
Here's his view of KU's other possible draft picks at this early date:
• Jeff Withey: "He will go between 25-30 (in first round). He'd be the tail end of the lottery (top 14) to No. 20 if he could finish around the basket. He's so good defensively, he will be a first-round pick."
• Travis Releford: "He is rated higher than (Elijah) Johnson. We think he can defend (at NBA level). I wouldn't be surprised if he goes in the 40 range (second round). He's tough. I love his game."
• Johnson: "He came on strong late in the year. There's been some question about how healthy he is. That should be addressed during the 1-on-1 workouts. He's got a chance to go late second round. Personally, I don't think he has a position. He will get a chance in summer league if he's not drafted."
• Kevin Young: "He will not get drafted. He'll be a good guy to get in a camp this summer. He is going to make a lot of money playing overseas."
Of future KU guard Wayne Selden, a 6-5 guard from Tilton (N.H.) School, the evaluator said: "I like his game a lot. He's a big guard who can shoot. He will be in college two to three years."
Memphis player on market: Memphis forward Tarik Black says he will graduate this semester, then transfer to another school for a final year of basketball. Jeff Goodman of CBSsports.com says he's drawing interest from KU, Duke, Marquette, Miami, Tennessee, Florida State, UMass and 20 others. Black, 6-9, 260 from Memphis, will be immediately eligible at his future school. He averaged 8.1 points and 4.8 rebounds while logging 20.8 minutes a game for Memphis last season.
No announcement on tap: Wiggins, who is ranked No. 1 in the country by Rivals.com, likely will not announce his college choice at Saturday's Jordan Brand Classic, his high school coach, Rob Fulford, told the Lexington Herald-Leader. Fulford said Wiggins would announce sometime before the end of the spring signing period (April 17-May 15). KU signees Selden and Joel Embiid will compete in the Classic, set for an 7 p.m. tipoff on ESPN2.