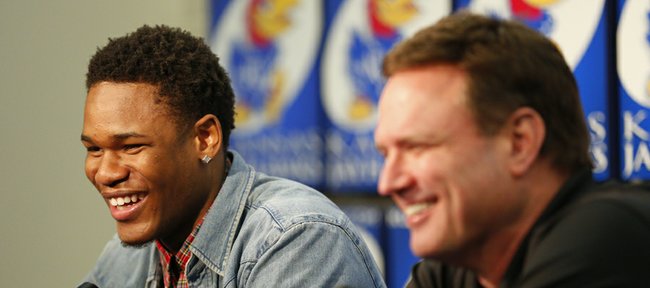 Kansas basketball coach Bill Self's recent talks with mega-talent Ben McLemore can help him more than anything the coach ever taught him about the game they love. Self alluded during Tuesday's news conference to his message for the red-shirt freshman from St. Louis.
"Ben's the most talented kid I've ever worked with and he may be the nicest kid I've ever worked with and I don't say that strictly as a positive," Self said.
The pool into which McLemore is about to plunge is rife with jewels. And jewel thieves.
"He's hungry, he's so many things, but one thing he can't be is everything to everybody," Self said.
He can't be everybody's piggy bank.
"He needs to be true to himself and his family and that's it," Self said.
McLemore must learn to say no to "friends" and ask himself: Would a true friend put me in a position to say no when he knows it doesn't come easily to me?
Once it became obvious that McLemore's blend of outrageous explosiveness, smooth movements and ever-so-soft shooting touch made him a multi-millionaire in waiting, you can bet he met cousins he never knew he had. If friends from long ago haven't wormed their way back into his life, that doesn't mean they have stopped trying. If someone pushes for him to select a particular agent, he or she very likely is getting paid to do so.
Quoting song lyrics generally is best left to high school graduation speakers, but a rare exception is appropriate. Folk singer Joni Mitchell, a poet with a pretty voice and a soul to match, wrote at the age of 24 "Both Sides Now," a song first recorded by Judy Collins. (The best version is Mitchell's accompanied by a muted trumpet and an orchestra on the revision of the album "Clouds" in 2000.)
"Old friends, they're acting strange," sings sweet Joni from Saskatoon (Neil Young's nickname for her). "They shake their heads and they tell me that I've changed. Well, something's lost but something's gained in living every day."
Lose those who would like to become your posse, Ben, and gain comfort in knowing the coaches and academic counselors you thanked by name always will be there for you to help you to stand on your own, not to form a circle around you to stay forever within reach of your pockets.