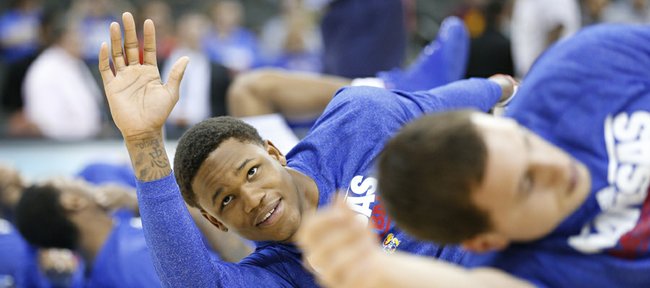 One Kansas University freshman basketball player — reserve Rio Adams — officially exited KU's program Monday.
Today, another Jayhawk freshman — second-team All-American Ben McLemore, who is projected to be the No. 1 pick in the 2013 NBA Draft by NBAdraft.net and the No. 2 selection by Draftexpress.com — will announce his future plans at a 2:30 p.m. news conference in Allen Fieldhouse. McLemore, who set KU's all-time freshman scoring record (15.9 ppg), is expected to become the third KU freshman in the Bill Self era to leave for the pros after one season, joining Xavier Henry and Josh Selby.
Self announced Monday that Adams, who asked for and received his release from his scholarship agreement last week but had second thoughts, definitely would be leaving the team.
"We met again and talked about it. We both came to the same conclusion: that it would be in his best interest to pursue other options, get off to a fresh start and impact another program," Self told the Journal-World.
Self also released a statement through KU on the matter.
"Anrio and I met today and discussed his feelings and how they have apparently changed. We discussed everything and talked openly," Self said. "Together we've come to the conclusion that it is in his best interest to pursue other opportunities and go to a place where he has the chance to really impact a program and, preferably, a school that is closer to home. This will allow him to red-shirt and have another year to work toward graduating."
Adams confirmed his decision to transfer on Twitter through his @AnrioAdams account.
"Nothin but positives from here on out ... This will only make me stronger," he tweeted.
If McLemore declares for the draft today, that would give KU three available scholarships for next season. The Jayhawks already have signed No. 25 (by Rivals.com) Brannen Greene, 6-7 small forward, Tift County High, Tifton, Ga.; No. 26 Wayne Selden, 6-5 shooting guard, Tilton (N.H.) School; No. 31 Conner Frankamp, 6-foot combo guard, Wichita North; No. 37-ranked Joel Embiid, 7-foot center, Rock School, Gainesville, Fla.; and No. 134 Frank Mason, 5-11 point guard, Massanutten Military Academy, Woodstock, Va. KU is still in the running for No. 1-ranked Andrew Wiggins, 6-7 forward from Huntington (W.Va.) Prep, who is considering KU, Kentucky, North Carolina and Florida State.
Self told the Journal-World the Jayhawks are still pursuing players and looking for "immediate impact" on the recruiting trail.
"We could probably sign a couple more," he said.
Wiggins and Selden were teammates in last week's McDonald's All-America game in Chicago. Wiggins told Boston.com that Selden was "a joy to play with."