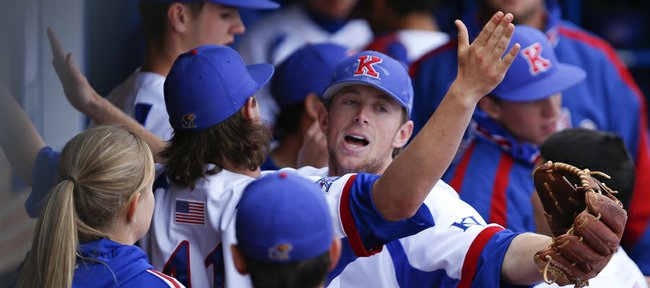 Photo Gallery
Kansas baseball v. Oklahoma State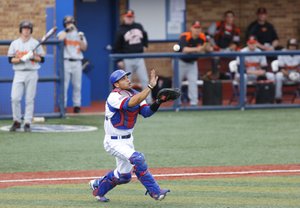 Images from Friday's game against Oklahoma State at Hoglund Ballpark.
Usually, Kansas University baseball coach Ritch Price likes to begin his postgame sessions with the media by talking about what his team did well.
Friday night, after a 7-5 victory over No. 19 Oklahoma State at Hoglund Ballpark that was way more all-Jayhawks than the final score indicated, Price had a difficult time pinpointing where to begin.
"That may have been our best all-around performance of the year," said Price, whose team jumped all over the Cowboys with 12 hits and a stellar performance from starting pitcher Thomas Taylor.
Taylor, a senior right-hander from Overland Park, surrendered four runs on eight hits through seven innings but kept the Oklahoma State hitters off balance for most of the night. Taylor added six strikeouts and just two walks to his final line before leaving the game two batters into the eighth inning.
"Taylor was good, which it takes to beat a No. 19 team in the country," Price said. "He's really blossomed into an outstanding starter, and it's been fun to watch his maturity."
Taylor's six strikeouts Friday moved him into sixth place on KU's all-time list, a feat that meant a lot to a player who grew up rooting for the Jayhawks.
"To have those stats at KU, I've always loved KU, and that's awesome," Taylor said.
While Taylor's climb up the strikeout chart demonstrates the kind of career he's had at Kansas, his teammates are more impressed with what he does in the present to help the Jayhawks compete in the Big 12.
"His job's not throw a no-hitter," said freshman designated hitter Jacob Boylan, who was 2-for-4 with three RBIs. "His job is to give us a chance to win the game, and he does that every time he goes out there."
Kansas scored three in the third and four in the fourth to open a lead that set the tone for the night. Michael Suiter (4-for-5, 2 RBIs) joined Boylan as the biggest boppers in KU's lineup, and four other Jayhawks finished with two hits.
"My first two hits were little dinkers," Suiter said. "But that kind of built my confidence, and I got it rolling from there. But this was a really good team win, and it definitely gives us some momentum for Saturday."
The Jayhawks (17-11, 4-3) and Cowboys (21-7, 3-3) return to the field at 2 p.m. today for Game 2 of their three-game series.
Okalahoma State 000 020 030 — 5 11 2
Kansas 003 400 000 — 7 12 0
W — Thomas Taylor (3-0), L — Jason Hursh (3-2), Sv — Jordan Piche' (5)
2B: OSU - Saulyer Saxon (2), Tanner Krietemeier (7), Zach Fish (11), Gage Green (3); KU – Michael Suiter (6).
KU highlights: Taylor 7 IP, 8 H, 4 ER, 6 K; Suiter 4-for-5, 2 RBIs, R; Justin Protacio 2-for-3, 2 R; Jacob Boylan 2-for-4, 3 RBIs; Dakota Smith 2-for-4, R, RBI; Jordan Dreiling 2-for-5.