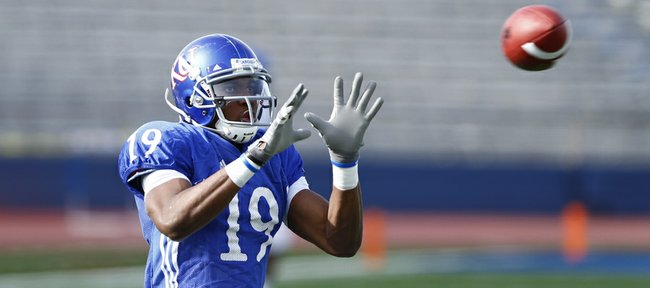 Last year at this time, Kansas University wide receiver Justin McCay was battling the NCAA about his eligibility.
This year, he's focused on playing football again.
"I love spring," said McCay, a 6-foot-2, 213-pound junior wide receiver from nearby Bishop Miege High. "The scrimmages are like full-go, 40-some-odd plays. It's a lot of fun."
McCay, who transferred to KU from Oklahoma in December of 2011, sat out the 2012 season after his request for a hardship waiver and subsequent appeal were denied by the NCAA. The ruling was a harsh blow to McCay and impacted the way he performed during his first spring under KU coach Charlie Weis.
Now that he's eligible again, McCay is fixated on doing everything he can to make sure the coaches feel they have to put him on the field.
"I don't have a chip on my shoulder, personally," he said. "But I have something to prove. People have expectations of me and I have expectations of myself. So it's every day: come motivated, don't be tired, be positive. I'm trying to do that every day."
So far, it appears to be working. During a recent meeting with the media, KU coach Charlie Weis said McCay had worked his way onto the first team and would start if the Jayhawks had to play that day.
But McCay, who said being listed second on the depth chart at the beginning of spring ball served as motivation, sounds like a player who has more work to do
"I feel like I gotta learn the offense and be a complete receiver on and off the field," he said. "(Spring) is kind of like a season within a season. You don't have games every week, but we still have practice.
"Sitting out a year and being older, I've matured. Once you become a coach and a player, you see the game a lot differently."
The Jayhawks were off Wednesday but will return to the field today for the 10th of 15 spring practices leading up to the April 13 spring game, which is slated for 1 p.m. at Memorial Stadium.