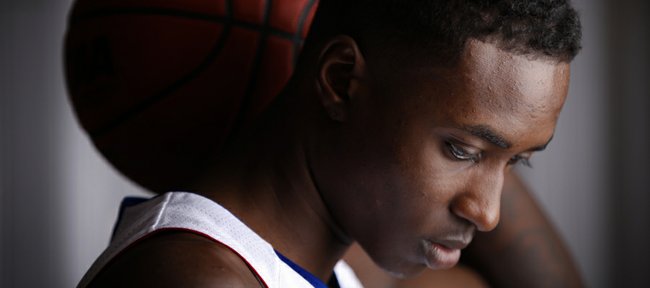 Rio Adams has a message for Kansas University basketball fans as he prepares to continue his college career someplace other than KU.
"It was a great run. I appreciate the support," Adams, a 6-foot-3 freshman from Seattle, told the Journal-World Wednesday night, several hours after it was announced he was granted a release by coach Bill Self to transfer to a yet-to-be-determined school.
"I feel like going home and playing closer is better for me and my family," Adams added. "This was definitely a family decision and it was a decision I wanted to do that would be best for my situation."
Adams — he scored 27 points while playing in 24 games with six assists against 11 turnovers — said he knows where he wants to transfer but is not prepared to reveal the school yet. According to the Seattle Times, Adams had mentioned UCLA, Oregon, Arizona and Washington on Twitter, but deleted the post.
"I'm wanting to go toward home," he said. "It's basically decided, but I have to talk to my family members."
He said his decision to leave was "best for my family and best for the coaches (at KU) as well."
"I've enjoyed every part of this year," Adams stated. "I've definitely grown and matured from it. There were a lot of great moments and downfalls that made me better. I appreciated the team, the coaching staff and the fans a lot. This was an experience that I will probably never be able to see again. I'm happy I was able to play with this team and be part of something great."
Explained coach Bill Self: "Anrio and I met about his future, both academically and athletically, and we believe it is in his best interest to look into potential opportunities that may exist closer to home. Anrio is a very talented kid. We've enjoyed him being here. He was a good teammate and I know frustration can set in when you don't play a lot, but he kept a good attitude and we should all support him in whatever decision he makes. I know our staff is 100 percent in support of him doing what's best for his life."
Adams' best game of the season was an 11-point outing against Texas Tech in the quarterfinals of the Big 12 Tournament on March 14.
Asked what he'll remember the most about KU, he told the J-W: "Just the urgency. You want to go hard every day because of what you are playing for. That was special to me."
Selden scores 13: Future KU guard Wayne Selden scored 13 points off 5-of-7 shooting (2-of-4 threes) with five rebounds and three assists in the East's 110-99 loss to the West in the McDonald's All-America game, Wednesday in Chicago. Andrew Wiggins, who is considering Kansas, among others, had 19 points. Arizona commit Aaron Gordon was MVP with 24 points.
Wiggins speaks to USA Today: Andrew Wiggins, a 6-8, 210-pound forward from Huntington (W.Va.) Prep who has a final list of KU, Kentucky, North Carolina and Florida State, tells USA Today he's tiring of recruiting.
"I think everyone else is more worried about my recruitment than me. Isn't that funny?" Wiggins told USA Today.
"I wish I could just play and that's it," Wiggins added. "I wish I knew where I wanted to go. Then it wouldn't be as big a deal."
His dad, Mitchell, is a former NBA player. His mom, Marita Payne-Wiggins a track and field standout in the Olympics.
"All those reporters ask the same boring questions," Wiggins said. "I already know how to answer anything they say because it's all the same worded differently. It's boring, so I have to make it fun."
Last week he said Kentucky would "win it all" if he went there.
"I knew they would take that and run with it," Wiggins said of the media. "But I do think that though. I mean come on now; me, Julius (Randle), the twins (Andrew and Aaron Harrison), James (Young), Marcus (Lee), Dakari; who's stopping that?"
Wiggins — he averaged 23.4 points, 11.2 rebounds a game this past season — told the paper he has "great" reasons to like his four finalists. He has not yet set a date to announce his decision.
"But I just want to end by saying that I love all the schools," Wiggins said. "They're all the same. At the end of the day, I just wanna play ball, man. I just wanna win at all costs. I wanna win a lot next year."
Vitale to honor Self: The V Foundation for Cancer Research will honor KU coach Bill Self, former Florida State football coach Bobby Bowden and former UConn basketball coach Jim Calhoun at the 2013 Dick Vitale Gala on May 17 in Sarasota, Florida. The Gala has raised more than $8.6 million for pediatric cancer research through The V Foundation. Tickets and sponsorship opportunities for the gala are available at www.jimmvy.org/vitale or by contacting Danielle Smith at dsmith@jimmyv.org.
Nice contract: USA Today reported Wednesday that KU's Self has the largest total compensation package of any public-school basketball coach: a 10-year deal to pay him just under $50 million, not including incentives. The only public-school coach in any sport with a richer deal is Texas football coach Mack Brown, now in the second year of a nine-year contract that could pay $51.3 million excluding incentives, the paper indicated. In June 2011, Kentucky increased Calipari's annual pay to $4.8 million, the paper said. While KU was negotiating with Self, Kentucky moved John Calipari to $5.2 million a year.