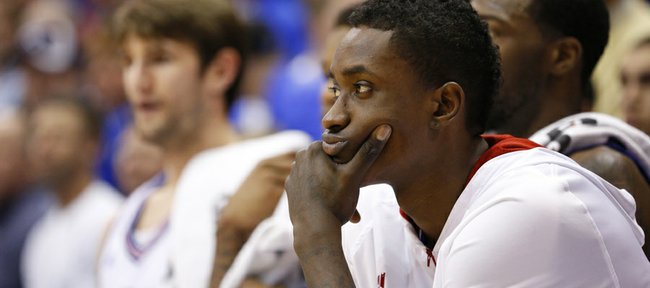 Kansas University freshman guard Rio Adams announced on Twitter Tuesday night that he will be leaving KU.
"I'm transferring to another school and will be getting released Tomorrow.... I love this team no matter what !!! I've learned a lot here!!" Adams said on his @WarLordRio Twitter account, which disappeared later Tuesday night.
Shortly after the tweet was posted, KU coach Bill Self confirmed to the Journal-World that Adams was transferring.
"He is leaving. He will get his release tomorrow," Self said.
Adams, a 6-foot-3 guard from Seattle, on various occasions this season expressed his displeasure with playing time on Twitter and Facebook. Adams, who has not yet revealed his future school, scored 27 points while playing in 24 games. He hit 10 of 25 shots, including two of five threes. He was 5-of-13 from the free-throw line with six assists against 11 turnovers.
Not done recruiting: Self, who has signed ESPN's No. 3-ranked high school basketball recruiting class entering the April 17-May 15 spring signing period, says he and his assistants are not finished in their pursuit of players.
"Immediate impact," Self said Tuesday, asked what he's looking for on the recruiting trail. "We could probably sign a couple more."
KU, which has signed No. 25-ranked (Rivals.com) Brannen Greene, No. 26 Wayne Selden, No. 31 Conner Frankamp, No. 37 Joel Embiid and No. 134 Frank Mason, is still in the hunt for No. 1-rated Andrew Wiggins, a 6-7 forward from Huntington (W.Va.) Prep who is considering KU, Kentucky, North Carolina and Florida State. He and Selden will be playing in today's McDonald's All-American game, set for an 8:30 p.m., start on ESPN.
The Jayhawks, whose class is ranked behind Kentucky and Memphis, have two scholarships left to give, three if freshman guard Ben McLemore heads to the NBA.
Most expect the 6-foot-5 McLemore to declare for the draft sometime next week after the players conduct their end-of-the-season meetings with Self.
Self on Tuesday confirmed the fact McLemore is on campus and in class following KU's season-ending loss to Michigan on Friday night.
McLemore and senior Jeff Withey on Tuesday were named consensus second-team All-Americans (Sporting News, Basketball Writers, AP, NABC).
"I'm really happy for Ben and Jeff," Self said. "Both had great years. Both are very deserving."
Tape hasn't been viewed: Self said he hadn't watched a replay of Friday's season-ending overtime loss to Michigan.
"I'm not going to watch it. I very rarely watch the last game. I've probably only watched a couple of them, unless it ended in a win," Self said. "I won't watch this one. I've replayed it in my head, like I'm sure all the players have of what happened and what went wrong. We probably had to have six, seven things go wrong in the last minute, minute-and-a-half. They had to have a lot of things go right. It certainly played out that way."
Meetings ahead: Self, who is a member of the NABC Board of Directors, will attend some of the Final Four later this week. He said that, as of Tuesday, he's not accepted any overtures from national TV networks to work as an analyst or panelist.
"I don't think I can be there the whole time, but I will certainly attend several meetings," Self said. "There are things required of everybody on different boards. It's a week I wish I wouldn't be going to any meetings. I wish I could be coaching my team."