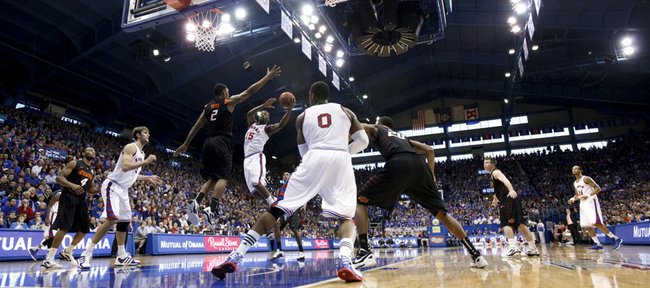 Allen Fieldhouse is about to get a whole lot clearer.
Fans in attendance for the annual "Late Night in the Phog" event on Oct. 12 will be the first to experience a new high-definition (HD) video board and control room inside Kansas University's home basketball arena.
According to a release from KU, the new Daktronics video board is currently being installed and is scheduled to be completed on October 8. The center-hung scoreboard will remain as the same structure; however, the new video portion will increase to 18 feet wide and nearly 10 feet tall with HD resolution, which is three feet wider and a foot taller than the previous standard definition board.
To accompany the HD video board, Alpha Video also has been brought into Allen Fieldhouse to upgrade the Rock Chalk Video control room with HD capabilities.
The new control room will be built in the same location as the current control room and will largely mimic the equipment, functionality and workflow of the HD control room at Memorial Stadium. The new control room will feature five HD studio cameras, a production switcher, an audio and video routing switcher with integrated multi-image viewers, an 8-channel slow-motion system, a dual channel clip server, a character generator and playback/recording equipment.
"We are excited to upgrade the video board and control room in Allen Fieldhouse to HD to give the fans of Kansas the best in-game experience in the country," said Mike Lickert, Director of Rock Chalk Video.