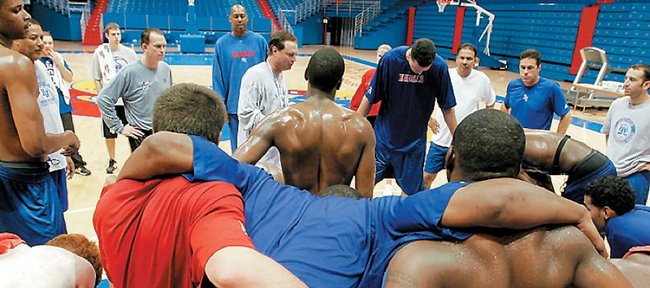 Bill Self views his 10th Kansas University basketball Boot Camp as one of the most important in his decade at KU.
"I am real excited for this one, maybe more than the others because I've got nine guys who have never been through anything like this," Self, KU's coach, said of newcomers Rio Adams, Perry Ellis, Landen Lucas, Evan Manning, Ben McLemore, Zach Peters, Tyler Self, Jamari Traylor and Andrew White III. "If they look at it as punishment, it'll be hard for them. If they look at it as an opportunity to get in great shape and a team-bonding experience, they'll end up being very proud of themselves after they complete it."
McLemore and Traylor were on campus for the 2011 Boot Camp, but couldn't compete as they awaited word on their eligibility from the NCAA.
They, of course, are eligible this year and will be in KU's practice facility at 6 a.m. today for the first of 10 up-before-the-crack-of-dawn conditioning drills.
"We'll get through it. We always do. I'm looking forward to it," Self said.
He could only laugh when asked if he considered scrapping Boot Camp this year, considering his Jayhawks held 10 official practices prior to last month's four-game exhibition tour to Switzerland and Paris.
"No. No. No. I would never cancel Boot Camp. It's too important," Self said. "Boot Camp is something we can draw from every year. It will help provide leadership, unity and toughness. I would cancel the European trip before I'd cancel Boot Camp. When we came back from Europe, we also took two weeks off. The guys' bodies are fine."
Self was asked to identify the unofficial stars of Boot Camp throughout his KU years.
"When you are talking about the biggest stud of Boot Camp, it'd be hard to impress more than what Tyrel Reed did, and also Travis Releford, I'd say, has been excellent so far," Self said.
Releford, a fifth-year senior out of Kansas City, Mo., was asked who stood out to him in the past.
"All of us," he said. "What do you mean?
"Tyrel ... he wouldn't lose any races. If you want to say he was the star of that, yes, Tyrel was," Releford added of the 2011 KU graduate. "Since I've been here, he's been the only one who has completely dominated."
Boot Camp consists of sprints, defensive slides and backboard touches — all sorts of running, with no basketballs in sight.
In the past, a player or two has lost his breakfast at Boot Camp, which will run from 6 a.m. to just after 7 Monday through Friday this week and next.
"I've never puked," Releford said. "There have been a few in the past, but I can't remember. I think the last time was early-on my freshman year. The past few years, I don't think anybody has ever puked."
Self gave a final bit of advice for his veterans and newcomers alike.
"All it is, is convince your body you can do things you didn't think you could do," he stated.
Roberson has six finalists: Tyler Roberson, a 6-foot-8 senior small forward from Roselle (N.J.) Catholic who is ranked No. 29 nationally by Rivals.com, has cut his list of prospective colleges to six: KU, Kentucky, SMU, Rutgers, Syracuse, and Villanova.
"Coach Self showed me a lot of highlights of Marcus Morris," Roberson told jayhawkslant.com, asked about last Thursday's in-home visit. "He said that I'd be doing something similar to what Marcus was doing on offense. I watched Marcus when Kansas was on TV, and I think there are some similarities."