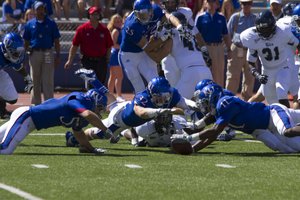 Anyone needing proof that the Kansas University football team's defense has taken a step forward from the woeful performances that were common during the past couple of seasons need look no further than the company the Jayhawks keep in total turnovers.
The Jayhawks (1-2 overall, 0-1 Big 12) lead the nation with 12 turnovers gained through three games and sit in a first-place tie with top-ranked Alabama and 23rd-ranked Mississippi State — both 3-0.
"That was the second thing I talked about with the team today," KU coach Charlie Weis said Sunday night. "The first thing was playing hard for 60 minutes. After how hard they played, the turnovers were, by far, the next greatest positive."
During Saturday's 20-6 loss to No. 16 TCU, the Jayhawks forced four turnovers — all fumbles — and, for the third straight game, finished even or ahead in the turnover battle. The Jayhawks, however, are just 1-1 this season in games in which they have finished with more takeaways.
"It's very unusual to win the turnover ratio 4-to-2 and lose the game, which is what we did (Saturday)," Weis said.
Forget for a second that KU's turnovers have not spelled success in the win column. Weis said the early surge was a very positive sign of the progress the KU defense had made.
Ten Jayhawks have contributed to a takeaway, proof, Weis said, that creating turnovers can be contagious.
"Every defense in the country works on stripping the ball," he said. "But when the ball actually starts coming out and good things end up happening, usually more people want a part of the action."
Four Jayhawks have forced fumbles, led by two apiece from seniors Toben Opurum and Bradley McDougald. Four Jayhawks also have recorded interceptions, with McDougald leading the team with two and Greg Brown, Tyler Patmon and Corrigan Powell recording one each.
While spreading the wealth has made it possible for the Jayhawks to hope for and even expect a defensive play to be made at any point on the field, Weis said the early success has elevated KU's confidence.
"Not only do more people try to create turnovers," he said. "But, the other thing that happens is, instead of waiting for something bad to happen when you get down in the red zone, they expect to turn the ball over, which is a very, very, very strong positive."
The Jayhawks travel to Northern Illinois on Saturday for a 2:30 p.m. kickoff.
Pick progressing
It's no secret that KU's offense, particularly the passing game, has struggled during the first few games. But the Jayhawks may have received a little good news Sunday regarding senior wide receiver Kale Pick, who missed the TCU game because of injury.
"I specifically watched him (during Sunday's practice)," Weis said. "And he looked like, if we played today, he'd have been a lot closer to 100 percent. He didn't look as sore as he did a couple days ago."
In two starts to open the season, Pick caught seven passes for 103 yards, including an average of 14.7 yards per reception.
In Pick's absence, sophomore Andrew Turzilli and junior Chris Omigie received extended playing time, and Weis said their performances might have been the start of productive seasons.
"With both of them going out there and making plays, it makes it easier to give them real reps," he said. "We're starting to believe that we can put 'em in the game and not worry about whether they can make a play."
Other than freshman offensive lineman Sean Connolly and junior linebacker Prinz Kande, both of whom missed Saturday's game, Weis said no other Jayhawks were listed as out or doubtful for this weekend.
NIU favored
Northern Illinois, which defeated Army, 41-40, Saturday and moved to 2-1 overall, opened as a 10-point favorite against the Jayhawks this weekend.
Weis was not surprised.
"First, this isn't a question about whether or not they could beat a BCS-level team," he said. "This team has done it. Number 2, we've lost 13 games in a row on the road. Every week you have to have that one thing to play off of with your team. Well, it's our first game on the road, and we've lost 13 in a row on the road. You don't need too many things to play off of. You keep harping on the positives and then find the message for the week, and that'll be the message."