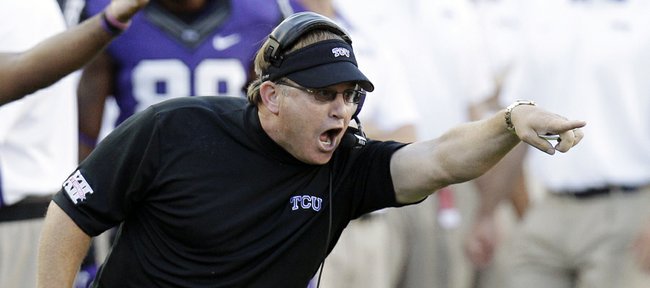 There are no plans to roll out the red carpet, offer baked goods or host a reception of any kind. In fact, as far as first meetings go, the Kansas University football team is hoping to make today's Welcome to the Big 12 party for TCU one the Horned Frogs would like to forget.
"Oh, most definitely," KU linebacker Huldon Tharp said. "That's something we've been thinking about for a long time and something we talk about a lot. I'm sure TCU's more than ready to come into the league, but we want to put on a good showing."
After years of waiting, wondering and speculation, the time has finally come for TCU to take its place at the table with the big boys. Sure, today's 11 a.m. conference opener at Memorial Stadium might be against a reeling Kansas team that lost to Rice on the same field a week ago, but from this point on just about every conference foe the Frogs face will be either ranked or fighting to get there.
While TCU coach Gary Patterson has a great deal of respect for the Big 12, he also knows it was no accident that the Horned Frogs became one of the toughest outs in college football during the past decade, and he's not expecting things to change much now that they've joined a new league.
"It is just another conference," said Patterson, who has coached in both Conference USA and the Mountain West during his 12 seasons at TCU. "We don't want to have this mentality that everything we accomplished in the past now means nothing."
TCU enters the Big 12 having won 24 straight Mountain West Conference games, which marks the longest conference winning streak in the country.
The last time TCU lost to a league opponent came in November of 2008, when the Horned Frogs fell to No. 10 Utah.
However, during that stretch, which included unbeaten league seasons in 2009, 2010 and 2011, just six of TCU's conference opponents were ranked at the time the two teams played. On its first Big 12 schedule alone, TCU (1-0) currently has four ranked opponents and three others who are receiving votes.
Kansas, of course, is not one of those teams, but the Jayhawks (1-1) have taken the responsibility of ushering the Frogs into the league very seriously. Not only do they want to show TCU what Big 12 football is all about, but they also want to prove to themselves that they, too, once again can compete in this Big 12.
"I feel like we are responsible (for that)," senior defensive end Toben Opurum said. "Being their first Big 12 game, we've gotta be able to put up a fight. We're not laying down for anybody, and we're gonna do everything it takes for us to win."
Patterson is no stranger to playing Big 12-type competition. During his first 11 seasons in charge of the program, the native Kansan has a 12-7 record against ranked opponents and is 6-4 against current Big 12 schools.
"These guys have (competed against) different leagues," Patterson said. "This team here, these seniors, Saturday was their 37th win. Some of them have played in the Rose Bowl. We've played different conferences. We've gone to Boise. So we understand if you want to win championships you've gotta be able to go on the road and beat people at their own house."
It's that last part that has helped Patterson and his program focus on this weekend's game against KU even though the Jayhawks have not posted a winning record since 2008 and have finished a season above .500 just three times since Patterson arrived at TCU.
"For us, it's the next ballgame, and we've gotta treat it as such," Patterson said. "If we treat it any different than that, you get to the point where you either play too hard and you make mistakes or you don't play hard enough. ... We're excited to get into Big 12 Conference play. We've got some very good games ahead of us, and it starts with Kansas."
Added record-setting quarterback Casey Pachall, who finished 9-of-9 for 201 yards and three touchdowns in last week's opener against Grambling State: "We expect nothing less than what we did last week. That's the mindset we're going to have coming into the game. We're not going to lack in focus or anything because we're going to come out with high intensity and ready to play."
The Frogs aren't the only ones who believe today's match-up is a big-time test.
"Usually we don't have games this big this early, but it's the next game for us, and we're gonna prepare for it just like we would any other game," Opurum said. "I think it's a perfect opportunity. You know, the better the offense, the bigger the challenge for us, and I think that's only gonna make us better."
KU quarterback Dayne Crist agreed with Opurum and said the Jayhawks were focused more on the opportunity to prove themselves against a ranked opponent than playing the role of gracious hosts at a welcoming rally.
"We've got a ton of respect for TCU," Crist said. "They're a very storied program, and they've got great coaches and great players. We're excited about this opportunity. It's a big game for us."