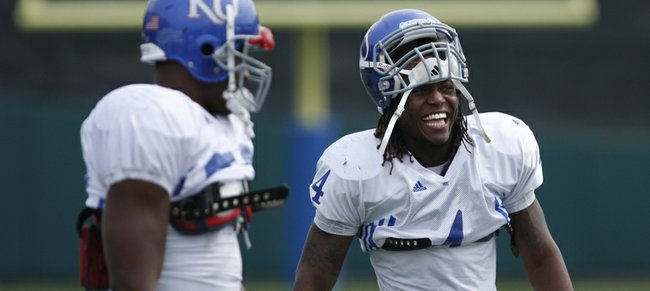 The Journal-World has learned that Kansas University junior linebacker Prinz Kande, who made the first start of his career during Saturday's one-point loss to Rice, injured the anterior cruciate and medial collateral ligaments in his right knee during the game.
Kande, who finished with three tackles and a sack, had to be helped off the field and did not return. The junior from Euless, Texas, likely will miss the remainder of the 2012 season but may be eligible for a medical red-shirt, which, if granted, would give him two years of eligibility remaining.
KU coach Charlie Weis said Sunday night that Kande's injury was the only one the Jayhawks suffered against Rice that appeared to be serious.
Weis said seniors Kale Pick and Lubbock Smith, who also had to be helped off the field last weekend, would have a chance to play this weekend, when the Jayhawks open Big 12 play at home against league newcomer TCU.
Weis remembers 9/11
With today marking the 11th anniversary of the terrorist attacks that shook the nation and brought tragedy to New York City, people all across the country figure to spend at least part of the day remembering the victims and reliving their experiences.
Weis had a unique perspective of the attacks, and Monday night during his weekly "Hawk Talk" radio show on KLWN he shared what the early moments of Sept. 11, 2001, were like for him.
"First of all, I'm from New Jersey, and I lost a whole bunch of friends that day," Weis recalled. "Not a few. A whole bunch."
At the time of the attacks, Weis was working with the New England Patriots and was back in Boston preparing for that week's game against the Carolina Panthers. As he walked down the hall to an early-morning meeting, the phone in his office rang. On the other end was his wife, Maura, who asked if he had seen what happened.
"She said, 'Turn on the TV,'" Weis said, "And I said, 'What channel?' She said, 'Any channel.' We proceeded, about 10 of us, to stand in my office in amazement for the next two hours watching all that stuff."
While people around him tried to digest what had happened, one of Weis' players, offensive guard Joe Andruzzi, feared for the lives of his three brothers, all of whom were New York City firefighters and responded to the site of the attacks.
"He was just a mess the entire day," Weis said. "He didn't find out until later that day that they were all alive. But all three of his brothers ended up getting out of there."
Blame game
Shortly after last Saturday's stumble against Rice, Weis said he deserved a chunk of the blame. Monday morning, while recapping the game on the Big 12 coaches' weekly teleconference, Weis explained why.
"You can't just count on these guys to figure it out on their own," he said of learning how to finish victories after years of losing. "That's one of the responsibilities of the coaching staff. We gotta help the guys through that."
Although Weis is best known for his success as an NFL assistant, he has done his share of rebuilding. Each time, he's seen the coaching staff take the lead on changing the culture.
"At all of the places I've been that were sort of reclamation projects, sooner or later something has clicked where (the players) start to figure it out," Weis said. "Unfortunately, it didn't happen this week. The bottom line is, to truly turn the corner, we're gonna have to guide 'em through that."
Rice kicker honored
Rice place kicker Chris Boswell, who made all four field goals he attempted last week against Kansas, including the game winner, was honored as one of the "Stars of the Week" by the folks who hand out the Lou Groza Award, given annually to the nation's top kicker. Boswell's four makes pulled the junior from Keller, Texas, into a tie for the school's career record of 33.
KU-NIU kickoff set
Kickoff for KU's Week 4 game at Northern Illinois on Sept. 22 has been set for 2:30 p.m. The game will be broadcast live on ESPN3.
KU's final nonconference game of the season will mark the third-straight national broadcast for the Jayhawks, who lost to Rice last weekend on Fox Sports Net and will welcome Big 12 foe TCU to Memorial Stadium at 11 a.m. Saturday for a game that will be shown on FX.
Future game times will be announced at a later date.