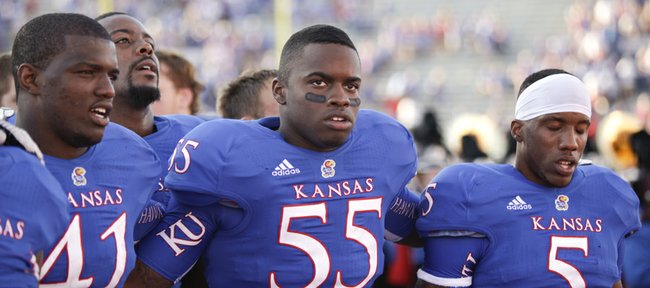 When a team comes up short in 27 of its last 33 games, losses have a way of becoming a little too familiar.
And while that may have been true for the bulk of Kansas University's football roster during the past couple of seasons, the Jayhawks insist they're a different team under first-year coach Charlie Weis, and that's why they don't expect to let Saturday's 25-24 home loss to Rice send them into a downward spiral.
"Nobody likes losing," senior cornerback Greg Brown said. "We've been on the losing side quite often. But I feel like we have a positive mind-set about this season. I can see it in everybody's eyes."
The way Weis painted it after Saturday's game, the Jayhawks (1-1) have two options. They can work hard to bounce back and get better, or they can feel sorry for themselves and get worse. KU's leaders are betting on the former, and next week's opponent — nationally ranked perennial powerhouse TCU at Memorial Stadium — demands it.
"We don't have time to sit around and mope," said quarterback Dayne Crist, who had a second straight sub-par outing against Rice. "We've gotta move forward and get ready for TCU. That's the most important thing right now."
Las Vegas oddsmakers have pegged TCU as a 26.5-point favorite over the Jayhawks. Add to that the fact that the Horned Frogs figure to be fired up for their first ever Big 12 Conference game and are coming off a 56-0 romp over Grambling State in their season opener, and it's obvious that, if they hope to compete, the Jayhawks will have to be much sharper in Week 3.
Weis expects his team to answer the bell.
"All those factors will help get their attention in a hurry," Weis said. "My job will be to get everybody out of the tank. Hey, it's easy to walk around after you've won a game. Everyone's telling you how great you are, congratulations. When you lose, it's not so easy. It's much more difficult."
Sunday night, Weis said he saw several positive signs of progress during that afternoon's practice.
"When you practice, that's usually what does it," Weis said of moving past a loss. "They were flying around really good. It was very competitive, and I think that's the easiest way to get 'em going again."
Following Saturday's loss, Weis held the same demeanor he had throughout most of the preseason — calm, realistic, honest. Heck, he even cracked a couple of jokes during the postgame news conference. The reason? Weis understood he was walking into a tough situation when he took the job at Kansas. He might not have expected to lose Saturday, but he knew there would be growing pains.
Weis said the blame for the loss trickled down throughout the entire team. But it started with him.
"If you're in my seat, you better sit there and be accountable yourself," Weis said. "The bottom line is, everyone better accept their accountability, otherwise you're never gonna make strides. You're always just gonna be just OK at best."
Injury updates
Weis received some good news regarding his team's injury report Sunday. Only linebacker Prinz Kande appears to be in jeopardy of missing this week's game against TCU.
While a couple of other Jayhawks nursed minor injuries during Saturday's loss, Kande was one of three players who had to be helped off the field, joining senior safety Lubbock Smith and senior wide receiver Kale Pick.
"Pick actually was way better than we thought he would be," Weis said. "The guy that's most likely out is Kande. I think all those other guys have a chance to play."
Crist coming along?
Weis' review of the game film revealed that Crist shed a little more rust Saturday.
"He was much more in tune with where we were going with the ball this game," Weis said.
But that did not mean Weis thought Crist's performance was where it needed to be.
"Once again, there were a handful of throws in the game where I would expect a complete pass," Weis said. "When the quarterback is not under duress, and the receiver has some kind of separation, I expect a completion, whether it's five yards down the field or 25 yards down the field."
Weis said KU's receivers got separation at times and struggled at others, but, overall, he thought they did enough for the KU offense to flow.
"Moving the ball wasn't the issue," Weis said. "Finishing drives, that was the issue."