Sunday, September 2, 2012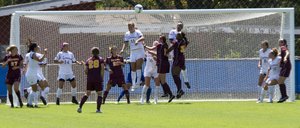 Senior Whitney Berry netted the game-tying goal from 40 yards out in the 85th minute as Kansas University and the Arizona State played to a 2-2 soccer draw Sunday afternoon at the Jayhawk Soccer Complex.
KU, which had won three straight coming in, moved to 4-1-1. The Sun Devils are 1-3-1.
Berry knocked in her second goal of the season with just five minutes remaining in regulation. The 40-yard bomb came off a free-kick assist from junior Amy Grow and found the net just one minute after ASU claimed the lead on a free-kick goal from freshman Christina Schedel.
The Berry goal sent Kansas into its third overtime match of the year. The Jayhawks move to 1-1-1 in overtime contests this season.
For the second-consecutive match, the Jayhawks took an early lead thanks to Ashley Williams goal.
The freshman knocked in her fifth goal of the season with a cross from fellow freshman Courtney Dickerson, her first assist of the year.
The Jayhawk didn't allow a goal over the next 70 minutes. Senior goalkeeper Kat Liebetrau collected a season-high five saves in that span and had the Jayhawks on the verge of their fourth-consecutive shutout victory.
In the 81st minute however, the Jayhawks were unable to clear the ball out of their own box, giving freshman Cali Farquharson an opportunity to head the ball into the KU net.
It wasn't long after the ASU equalizer that the Sun Devils scored the go-ahead goal in the 85th minute. Schedel took a free kick from 30 yards out and found the top corner of the KU net, forcing the Jayhawks to play from behind for the first time in two weeks.
The Sun Devils were forced to play a person short after Schedel was given a red card following a hard foul on KU senior forward Nicole Chrisopulos. A 10-yard shot in the final minutes from Williams was snagged by Sun Devil goalkeeper Chandler Morris, keeping the game deadlocked.
Kansas will host Missouri State at 5 p.m. Friday.