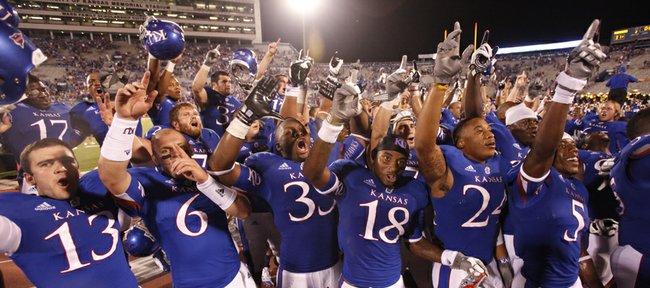 Podcast episode
Kansas coach Charlie Weis talks to reporters following the Jayhawks' 31-17 victory over South Dakota State on Sept. 1, 2012.
Podcast episode
KU players talk following their 31-17 win over SDSU on Sept. 1, 2012.
Box score
It has been a long time since a football team at Kansas University did something that deserved to be compared to the magical 2007 squad, which finished 12-1 and won the Orange Bowl.
But it was that kind of effort in Memorial Stadium on Saturday night that led the Jayhawks to a 31-17 season-opening victory against South Dakota State.
The new quarterback might have entered the game with all of the hype, but it was a pair of KU running backs who led the Jayhawks.
Sophomore Tony Pierson, who likes to refer to himself as a "speed back," utilized his wheels and rushed for 124 yards and two touchdowns on 20 carries. When Pierson wasn't torching the SDSU defense with his speed, newcomer Taylor Cox picked up the slack, rushing for 121 yards and a touchdown on 16 carries. It marked the first time two KU running backs topped the 100-yard mark in the same game since Brandon McAnderson and Jake Sharp did it against Central Michigan in 2007.
"All the running backs, in conjunction with the offensive line, really carried the day," senior quarterback Dayne Crist said. "They got us through some lulls, and (Cox and Pierson) both run incredibly hard, and we expect that out of them each week."
It might not have been the statement victory or the massive blowout many had hoped for and even expected. But it was a victory. And around here, that means quite a lot. KU now is 6-26 in its last 32 games.
"Would I have liked to win by more, you betcha I would've," KU coach Charlie Weis said. "But the way it played out, it gave us a lot of opportunity to grow. It was far from a thing of beauty, but I think it was a good start."
The game itself was anything but a good start for the Jayhawks (1-0). Not only did Kansas miss a 35-yard field goal and struggle to score despite starting with field position that almost was too good to be true throughout the first half, but the Jackrabbits (0-1) actually landed the first blow.
After a KU punt was downed at the SDSU one-yard line, Weis was huddled with his offense trying to figure out how it was going to take advantage of the next batch of good field position that was sure to come. It never did. Instead, SDSU's Zach Zenner broke through the line untouched and then outran the KU secondary for a 99-yard touchdown that gave the Jacks a 7-0 lead midway through the first quarter.
Asked where the defensive breakdown occurred, Weis admitted to being in the dark at first.
"I asked the same question," he said. "We had two guys both flow to the outside, and one of them was supposed to be on the inside."
That was not the only time the Jayhawks were out of sync Saturday. Crist said after that game he was disappointed in his play, as he completed just 17 of 36 pass attempts and threw one interception. For some, Crist was to blame. For others, his receivers. Weis even divulged that, on one occasion — a screen pass — the running-back target ran a completely different play.
"They sound alike," Weis said. "But he told me he was running a different play."
Thanks to KU's rushing attack, along with five takeaways by a defense that seemed to be allergic to turnovers during the past couple of seasons, the opening-night miscues hardly mattered.
Pierson quickly got the Jayhawks back on track with a three-yard TD run on the final offensive play of the first quarter. He followed that — and a Ron Doherty field goal — with a 47-yard TD run to open the third, and those plays put the Jayhawks firmly in control.
"He never ceases to amaze me," Crist said.
Not to be outdone, Cox made sure to deliver as well. After coughing up a fumble at the SDSU 20 midway through the second quarter, Cox was nothing but solid from that point. He had multiple double-digit gains, including a powerful 39-yard bruising rumble that set up his three-yard TD in the fourth.
"I definitely came back more motivated after that," Cox said of the fumble.
Not all of the highlights came on the ground. The KU defense blocked two punts (Josh Ford and Chris Omigie), recovered a fumble (Josh Williams) and picked off four passes (two for Bradley McDougald and one each for Tyler Patmon and Corrigan Powell).
And then there was the opening play of the game, when Crist connected with senior Kale Pick for a 43-yard bomb that brought the 46,601 fans to their feet.
"I was throwing it deep on the first play for months," Weis said. "I was trying to score."
Rust, mental lapses, a lack of energy; all were responsible for those moments of growth that Weis talked about after the victory. And while a few of those might make him cringe when he watches the game film today, most will produce that sly, New Jersey smile for which he's become known.
"As a coach, this is utopia," Weis said. "The guys are gonna go out and enjoy themselves, and it's been a while. You want them to be with their families and friends and kind of have fun. But, on the flip side, there'll be so many things on the tape where you'll look and say, 'What are we doing?' And that'll be true across the board. As a coach, there's no better environment than to be able to constructively criticize your players than after a win."