Photo Gallery
Kansas v. Texas football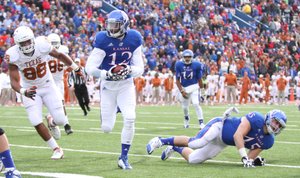 Images from Saturday's game against Texas at Memorial Stadium.
Podcast episode
KU coach Charlie Weis talks following KU's 21-17 loss to Texas on Oct. 27, 2012.
Box score
Texas football coach Mack Brown, whose Longhorns barely defeated down-on-its-luck Kansas University on Saturday in Memorial Stadium, sees better days ahead for the Jayhawks.
"They are going to beat somebody here. I'm just glad it wasn't us," Brown said after his UT team (6-2, 3-2) needed a touchdown pass with 12 seconds left to overcome the Jayhawks, 21-17.
"They played TCU down to the wire here (20-6 loss), Oklahoma State down to the end here (20-14 loss) and did the same with us. They couldn't have hired a better coach than Charlie (Weis). He's a great coach. His guys are playing hard. It was a good crowd. It was loud. You can tell they are headed in the right direction."
The Jayhawks (1-7, 0-5), who have now dropped 17 straight Big 12 Conference games, still have games remaining on the road versus Baylor, Texas Tech and West Virginia and at home versus Iowa State on Nov. 17.
"What I thought about was this was so similar to 2004," said Brown, whose Longhorns needed a late touchdown pass to clip KU, 27-23, in '04 in Memorial Stadium. "The 2004 (UT) team ended up in the Rose Bowl. Same end zone, 17 seconds left in 2004. There were eight seconds left in the same end zone this time.
"It was Vince Young throwing the ball to Tony Jefferies back then and Case McCoy throwing to D.J. Grant this time."
On Saturday, backup quarterback McCoy flipped a one-yard TD pass to a wide-open Grant to erase a 17-14 deficit with 12 seconds left. McCoy, who subbed for the ineffective David Ash in the fourth quarter, led two long drives for scores, erasing a 14-7 deficit.
"I'm really proud of our guys. The objective is to win. We were in trouble, obviously," Brown said. "Case led two drives to score very quickly. I'm glad we've got a second-team quarterback that can come in and win. We talk about that a lot. We knew that would happen at some point in the year.
"Bryan (Harsin, offensive coordinator) made the call to put Case in. I thought he did a great job down the stretch."
Texas scored its first touchdown just 4:07 into the game.
"I told our guys we came out and it was too easy," Brown said. "Three and out (vs. Kansas offense), and all of a sudden we had a quick score. We probably relaxed and didn't give Kansas the respect they are due. This isn't the Kansas team we played last year.
"We woke up at halftime. Our guys played better and harder the second half. The objective is to win. I'm glad we won."
Texas trailed 14-7 at the break.
"I told 'em we're going to win the game because we are used to winning, and we played very, very poorly and at times uninspired the first half," Brown said. "I said, 'We're lucky to be at 14-7, and we blew some opportunities. We've got to go back and put pressure back on Kansas and win the game. It'll probably be a fourth-quarter game. Just get yourself ready and I want everybody into it.' I thought in the last half, everybody tried as hard as they could."
McCoy hit five of seven passes for 68 yards and one TD; starter Ash was 8-for-16 for 63 yards and two interceptions.
"I really think our team and coaches decided just to dig down deep and decided to fight," McCoy said. "We came out slow and sluggish. That's something we can't do any more the rest of the year. We got lucky and were able to get out of here with a win. Our whole team decided to dig deep."
Texas coach Brown said he'd evaluate the QB situation after the team returned to Austin. He did not name a starter for Saturday's game at Texas Tech.
"I'm so proud of this team that they won. Thank goodness," Brown said. "We're bowl-eligible. We're 6-2, right where we were last year, and moving forward."