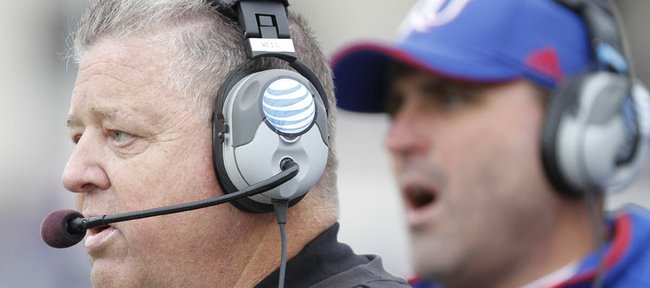 It's no secret that the Kansas University football team's offense has struggled this season.
Outside of the 31-point performance in the season opener against FCS foe South Dakota State, the Jayhawks have averaged just 15 points per game, a number that dips to 11 against Big 12 defenses.
While KU's erratic quarterback play has been the main reason behind the poor output, KU coach Charlie Weis said this week that low-scoring games had been part of the plan.
Weis' official term for it is "complementary football," and he defined it as playing a certain style to prevent KU's opponents from imposing their style on the Jayhawks. In the offensive-minded Big 12, where eight of the 10 teams average 36 points per outing or higher, that seems like a good idea, if not a survival method.
"I could probably put us in a position to score more points," Weis said. "But it would have to be more wide open and it wouldn't be running the football. We can sling all over the yard and, you know what, we might score 28, but we might give up 80. That's not the style of football I think anyone from Kansas wants to see, starting with yours truly."
Because of that, the Jayhawks have turned to the running game more than any team in the Big 12. While the Jayhawks rank dead last in scoring offense (17.3 ppg), they rank first in rushing attempts per game, with 44, and sixth in rushing offense (180 yards per game). KU has run on 58.3 percent of its offensive plays this season and 10 of the Jayhawks' 14 touchdowns have come on the ground.
"Clearly, our greatest strength is our running game," Weis said. "No one would refute that. So one of the things you do is, by unning the football, you build toughness within your team and you don't put your defense out on the field nearly as much."
KU ranks last in the Big 12 in pass offense (188 yards per game), last in pass efficiency (97.1 passer rating) and former starter Dayne Crist, who was benched recently in favor of red-shirt freshman Michael Cummings, ranks second-to-last nationally in quarterback rating.
Because Cummings will handle the snaps, the running game figures to play a pivotal role for both sides this weekend, when the Jayhawks play host to Texas at 11 a.m. Saturday at Memorial Stadium. Like KU, the Longhorns run more than they pass, keeping it on the ground 56.3 percent of the time, and rank fourth in rushing offense. UT also ranks dead last in the Big 12 in rushing defense, giving up 217 yards per game.
"This will be probably the biggest test we've had with just stopping the run, because they line up and run it right in our face," said UT coach Mack Brown. "So it's not going to be complicated, and this will be a great challenge for our defense and time for them to step up against the run."
Pierson improving
Injured tailback Tony Pierson returned to action against the Sooners and, at times, looked like his old self again. There was a reason for that, Weis said.
"His elbow is better," Weis said. "I think he was a little afraid of what was going to happen the first time he got hit. I mean, I know he said he just needs to go out there and get hit a couple of times. A lot of times that's what they want to do after they've got banged up some, so they know that everything's OK."
Pierson continued to take precautions throughout the week during practice, but is expected to handle his normal workload against the Longhorns.
Senior wide receiver D.J. Beshears (shoulder) remains out and senior wide receiver Daymond Patterson (head injury) remains questionable.