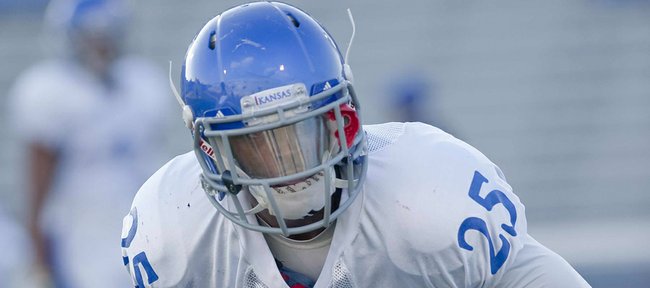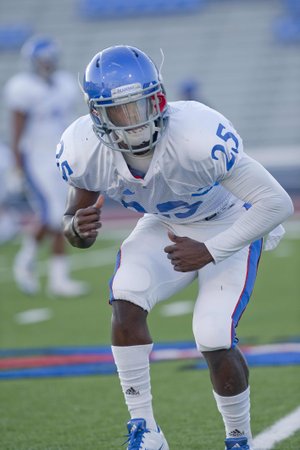 Through the first seven games of Kansas University's football season, one of JaCorey Shepherd's biggest plays was one he didn't make.
With the Jayhawks trailing 10th-ranked Oklahoma 3-0 in the first quarter of last week's loss, Shepherd found himself matched up one-on-one with OU standout receiver Kenny Stills. As Stills ran a deep route to the end zone, Shepherd lost contact briefly but then closed the gap and wound up running step-for-step with Stills as the ball hung in the air and eventually landed in Stills' hands for the first of seven OU touchdowns.
"It actually went down my hand and into his arm," Shepherd said. "If I would've played the ball more … I feel like I played the man too much. Right after the play, though, that was the thing, I wasn't down on myself, I was like, 'Man, I was right there, stride for stride.'"
Shepherd was not the only one impressed by his coverage on one of the Big 12's best receivers. KU coach Charlie Weis, defensive coordinator Dave Campo and safeties coach Clint Bowen all said Shepherd showed both his raw ability and his inexperience on that play. The latter is something they can work on. The former is something they're glad to have.
"He has the ability where I think we could eventually see him being pretty solid," Weis said of the sophomore cornerback. "Just the fact that he was right there with a 44-yard throw that was right on the money, it's good he was there. Now you gotta finish it off."
This whole season — which continues at 11 a.m. today when the Jayhawks (1-6 overall, 0-4 Big 12) play host to Texas (5-2, 2-2) at Memorial Stadium — has been a wild ride for Shepherd, last year's team leader in both touchdown receptions (3) and average gain per reception (16.8).
In the offseason, the 5-foot-11, 185-pound wideout from Mesquite, Texas, dropped far enough down the depth chart that Weis and Campo decided to try him out on defense, where the Jayhawks lacked speed and depth. At first, Shepherd was unsure about the idea. But the way Weis presented it to him and, more importantly, the chance to play, changed his mind, and KU's latest offense-to-defense experiment was under way.
Early in the season, Shepherd's progress showed up mostly in practice, and the coaches seemed hesitant to put him on the field because no one knew if his raw talent would translate to Saturdays.
Now?
"He's like a starter," Weis said. "He's basically playing the third corner, so when we go nickel, he's a starter right now. When he goes in there, (junior Tyler) Patmon's been moving inside, and (Shepherd's) out there."
Shepherd has received all kinds of advice from all kinds of places during his whirlwind two-month transition from the guy catching the passes to the guy breaking them up. His father impressed upon him the importance of having a short-term memory, and his teammates in the secondary, the guys he used to talk trash with, have helped him adjust.
But it turns out one of Shepherd's best tools in this transformation was his past. The years he spent honing his skills as a wide receiver have helped tremendously in his attempt to play defensive back.
"At receiver, I always watched a lot of film on other DBs," Shepherd said. "I was always taught the best way to beat a DB was to watch and learn what they do. Now it's the same thing but different. I'm actually playing DB."
There are times when all of that knowledge can cause problems, most often when Shepherd's mind and what he sees pre-snap tempt him to believe the opposing receiver is going to run this route or that one.
"When I played receiver, I was taught to run each route at least two or three different ways," Shepherd said. "So it helps me, but I try not to be too aggressive or guess too often."
Shepherd's natural athleticism has led to early success, and he has improved his technique every step of the way. He just recently got comfortable "opening up and running" and said he now has a better grasp of when it's time to get out of his backpedal.
"He's done a nice job of developing as a DB," Bowen said. "There's a lot to it. And he's done well."
So well that Shepherd said he actually could see himself sticking with defense for the rest of his career.
"In the beginning, I was like, 'Man, if they give me an opportunity to go back, I'm going,'" Shepherd recalled. "But as I went on, coaches were telling me, 'You could be real good.' I was hearing them, but as the weeks went on, I started agreeing (with) them. I see I've got the potential. I'm not trying to be selfish. If they need me to play here, I'm gonna play here. I'm starting to let that receiver slowly go away."