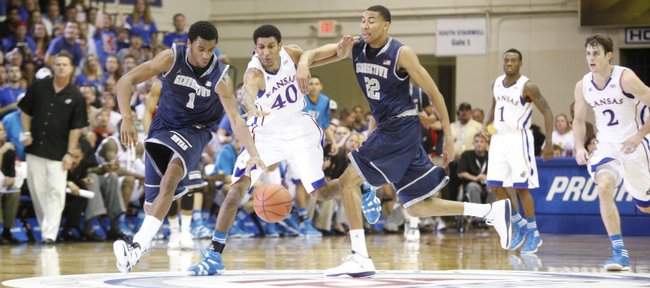 Kansas University's basketball team has scheduled a four-year, home-and-home series with Big East Conference member Georgetown, it was announced Thursday.
The Hoyas, who are 1-1 all-time versus KU, will visit Allen Fieldhouse on Dec. 21, 2013, and again in the 2015-16 season. KU will meet Georgetown in the Verizon Center in Washington, D.C., during the 2014-15 and 2016-17 seasons.
The D.C., area, home to former KU standout Thomas Robinson, is fertile recruiting ground for KU. Kansas freshman Andrew White III is a native of Richmond, Va., which is just 108 miles from D.C. Future KU player Frank Mason is from Petersburg, Va., 130 miles from D.C. KU also has a pair of players from Massachusetts (about an eight-hour drive from D.C.) in sophomore Naadir Tharpe (Worcester) and incoming guard Wayne Selden (Roxbury).
In other scheduling news ... KU, as previously reported, will participate in next season's Battle 4 Atlantis tournament over Thanksgiving week in Nassau, Bahamas. The field: KU, Villanova, Wake Forest, Tennessee, USC, UTEP, Xavier and a yet-to-be-determined Big Ten team. ESPN says Illinois initially was in the mix, but now it appears Ohio State or Michigan State will participate.
Wiggins reclassifies: Andrew Wiggins, a 6-7, 190-pound small forward from Huntington (W.Va.) Prep, has decided to reclassify from the Class of 2014, his dad reported on Thursday. Wiggins promptly was named No. 1 player in the class of 2013 by Rivals.com.
Wiggins, who is originally from Ontario, Canada, has KU, Kentucky, North Carolina, Florida State, Ohio State and others on his early list. His dad, Mitchell, played at Florida State.
"It's time to show that he is the best in college right now," Mitchell Wiggins told USA Today. "Academically-wise he is doing great. Maturity-wise he is doing great. He is ready for the next step, and everybody knows it is time. It's Andrew's time. Next year is coming soon, and he is ready."
Huntington coach Rob Fulford told USA Today that Wiggins needs just one English credit to graduate.
Andrew Wiggins told USA Today that fans assume Kentucky is the leader, "basically (because John) Calipari gets anybody he wants."
Yet he stressed he is "wide open."