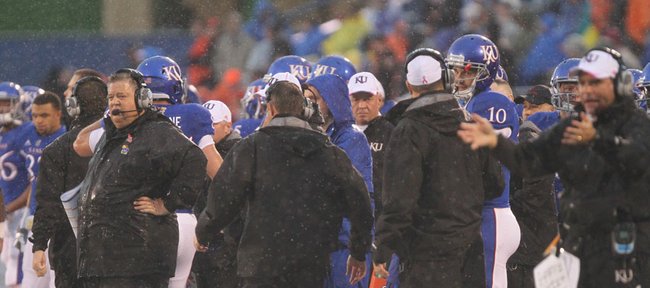 Special teams have been a sore spot for Kansas University football coach Charlie Weis this season.
Forget about the missed field goals, short kickoffs and trouble finding a reliable kicker. It's obvious what those plights have done to this team, as Weis often has gone for it on fourth down when other teams would simply have tacked on three points.
The special-teams struggles KU faces go beyond kicking, though. KU also has struggled with its return game and in coverage, and shortcomings in both areas were evident again during Saturday's loss to Oklahoma in which the Sooners returned a punt and a kickoff for touchdowns. That effort, or lack thereof, proved to be the breaking point for Weis and special-teams coordinator Clint Bowen.
"I told Clint, after throwing up this past weekend, that all hands are on deck, put whoever you want out there," Weis said earlier this week. "So he knows he's got free rein to put whoever out there. He doesn't have to ask for my permission … whoever he wants out there and he thinks give 'em the best chance because I saw enough of that."
Throughout the season, Weis employed a rule that offensive or defensive starters could serve on just two special-teams units. Asked if that rule was still in place, Weis hammered home his desire to see improvement on special teams.
"All hands on deck," he said again, emphasizing each word.
According to several KU players, Weis and his coaching staff have not simply elected to change up the personnel this week in preparation for Saturday's 11 a.m. kickoff against Texas at Memorial Stadium. They've also put in extra time during practice.

"We worked on punt (team) a lot today," sophomore Ben Heeney said Tuesday night. "More than we had in the past. Obviously, it's a problem if they're scoring touchdowns and getting big returns. And I think you're gonna see more starters out there on special teams this week. It's a huge part of the game, and games can be won and lost on special teams."
Special teams were an area in which Heeney stood out in 2011. He played on every special-teams unit and often was praised for his relentless effort and ability to make plays. Because of that, the first-year starter from Hutchinson has taken it upon himself to stress to teammates the importance of the game's third facet.
"I've (talked) with a couple guys," Heeney said. "But I feel like I should probably mention it more, just to tell them that this is where you can make a name for yourself."
Sophomore tight end Jimmay Mundine was on two units last week — field goal and kickoff return — and he said he noticed several upperclassmen and starters adding special-teams duties to their list of priorities this week.
"There were some older guys who, since things weren't going well, said, 'Put me out there, I'll do more, I'll give more,'" Mundine recalled. "Hopefully that'll just motivate everyone to do their jobs."
Mundine likened the role of a special-teams player to that of an offensive lineman.
"They do so much," Mundine said. "But they don't get much credit. Coach Weis tells us all the time that there are guys in the NFL whose only job is to play special teams. That's all they do, and they make a lot of money doing it."
Sophomore running back Brandon Bourbon was another guy who served on two special-teams units last week. With nagging injuries slowing his progress in the backfield and James Sims, Tony Pierson and Taylor Cox playing so well in front of him, Bourbon said he looked at special teams as his ticket to more playing time.
"Special teams is just effort and heart and a few fundamental things that the coaches will teach you," Bourbon said. "But it's mainly effort. I want to get a bigger role. I would do 'em all if they asked me to."
Weis agreed with Bourbon in saying special teams often came down to guys making plays. But he held his coaching staff accountable for at least part of KU's poor performance.
"Let's not just blame it on the players," Weis said. "Because the easiest thing to do is just take the players and throw them under the bus and say, 'Yeah, it's all their fault; we put them right in the right spot and they just didn't make a play.' Now, to be honest with you, there are times that you just have to go make the play. And there are things schematically that you can try to do to put people in a better position to make a play, so it's a combination of the two."