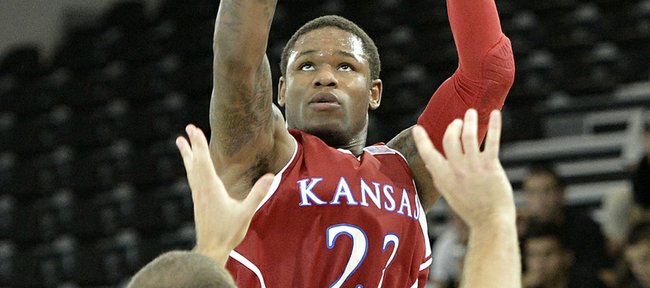 Ben McLemore had a heart-to-heart talk with his mom, Sonya, in the summer of 2011 before beginning his academic and athletic career at Kansas University.
"She told me to think about three main things. She said, 'Remember this: B.B.B.,'" McLemore, KU's 6-foot-5, 185-pound red-shirt freshman basketball guard from St. Louis, said. "I said, 'B.B.B? What does that mean?' She was like, 'Ben, Books and Basketball.' I heard what she said. I cherish that now. I keep working on my grades and stuff in class."
The NCAA in October of 2011 deemed McLemore a partial qualifier, largely because his transcripts were scattered from four high schools — two in his hometown, as well as Oak Hill Academy in Mouth of Wilson, Va., and Christian Life Center in Houston.
Saddled with the stigma of being ineligible for participation in games the entire 2011-12 season, McLemore did the only thing he could do: keep his head up while following mom's advice.
He spent countless hours in the gym with fellow partial qualifier Jamari Traylor first semester before practicing with the team second semester in accordance with NCAA rules. Also, like Chicago native Traylor, he hit the books hard. McLemore said he recorded a 3.2 grade-point average encompassing 36 hours of coursework.
Ben was a finalist for KU's "Crimson Climb" Award for academic excellence at the 2012 Rock Chalk Choice Awards — a black-tie event in September at the Lied Center.
"A lot of people didn't think I could do it," McLemore said of conquering college classwork. "They thought sitting out would disagree with me, that I wouldn't be able to stay on my books. I worked hard in class."
That was something new for McLemore, who said he never put in enough time studying in grade school and high school.
"I do like class. Class is great," McLemore said with a smile. "It's like I wake up (and say), 'I've got to go to class. I can't wait to go to class.' In college, you learn so much, like different types of history I didn't know about in high school. It's helped me better myself as a person."
KU coach Bill Self met regularly with McLemore last year to monitor his academic progress and state of mind.
"He came in my office one day, and I said, 'How are you doing in school?' He said, 'Coach, I like it,'" Self said, emphasizing the word "like."
"He liked learning. There was a different emphasis on what was important to him, which has now made him more balanced. He has matured. You watch him. He's quiet, unassuming, a pleaser. He wants everybody to like him, maybe too much. I wish he had a little more 'dog' in him, so to speak. We'll get that out of him in time. This kid works. He's going to be really good."
KU fans received a glimpse of McLemore's raw basketball talent at the Oct. 12 Late Night in the Phog. He skied high to finish a slam dunk off a lob pass from freshman Andrew White.
"Just from an athletic standpoint — shooting, length, slide, rebounding — he can do about as many things as we have had here," Self said. "He reminds me a lot of Brandon (Rush, now with Golden State Warriors) in that regard, but we struggled with Brandon being aggressive, if you guys remember. So that is one thing that Ben is going to have to be good at."
McLemore — he entered college as Rivals.com's No. 17-rated recruit in the high school Class of 2011 — admits he has been hesitant to speak up, electing to be a sponge in his first three semesters and two summer sessions at KU.
"I learned a lot last year, especially from the guards — Tyshawn (Taylor), Elijah (Johnson), Travis (Releford) and (Conner) Teahan," McLemore said. "They were talking to me every day, especially Elijah, about things I needed to do, things I needed to work on and how I've been through some struggles because he's been through some things, too.
"Right now, getting to play, I'm excited more than anything else. I've waited for this day to come. I couldn't participate last year. I can now. Words can't explain it. I'm so excited."
Self likes the fact McLemore didn't belabor one subject last year: his being ineligible.
"He's not a complainer," Self said. "I thought he was dealt a bad hand, personally (by NCAA). He proved everybody wrong who said he wasn't academically prepared because he goes and makes a 3.0 and passes 36 hours. Taking basketball away from him in a weird way made him like school. For his life, maybe it wasn't a bad thing at all."
McLemore's close family members are, of course, impressed at his development.
"He's working hard, being dedicated and taking advantage of an opportunity to get an education," said McLemore's cousin, Richard Boyd. "To accomplish something out of life, you've got to work and sacrifice. I tell him you can do anything in life if you put your mind to it.
"But it's always education first in life ... education first."
Who knows? McLemore, a new fan of academia, might even stick around more than one full season to continue his studies while improving his skills for what could be a long NBA career.
"I definitely could stay more than one year," McLemore said. "This is going to be my first year playing. Definitely I could stay, getting the feel of the program and keep on going forward toward my goal."