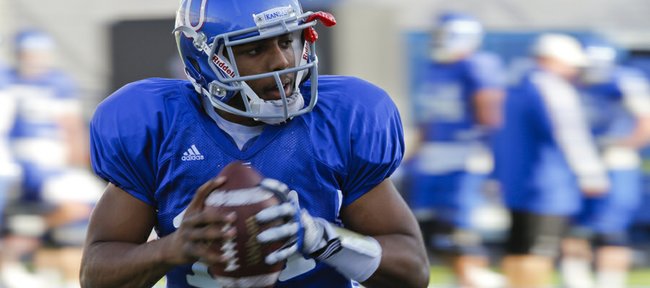 Saturday's 52-7 loss at Oklahoma was painful for the Kansas University football team in a lot of ways, but it seems as if the Jayhawks came out of it one step closer to nailing down the identity of their starting quarterback.
Who that is remains a mystery for now, but KU coach Charlie Weis said Sunday night that he expected to announce whether fifth-year senior Dayne Crist or red-shirt freshman Michael Cummings would start Saturday against Texas much earlier than he did a week ago.
"My guess would be, on Tuesday, we'd probably pick one over the other as the starter," Weis said. "I don't think we'll go into the game again with it being an or, even though we anticipate that there's a good chance that they both end up playing. I think it's easier if I come out on Tuesday and say, 'This is who's starting the game,'" Weis said. "We'll probably go in that direction."
Tuesday typically is the day in which Weis releases KU's updated depth chart. After having Crist listed as the clear-cut starter for the first six weeks of the season, Weis added an "or" to the depth chart last week between Crist and Cummings, indicating that competition for the starting job had been opened up. Cummings supplanted Crist as the starter against the Sooners and played both better and longer during the loss.
Weis said the decision would be based upon how the two played against OU and also how each fits into the this week's gameplan. Each guy's mental state also figures to play a role.
"Handling a quarterback is a little different than handling any other position," Weis said.
Crist has been on the sideline during the fourth quarter of KU's last three losses and is coming off of a game in which he played very little but added a couple more pages to the disappointing scrapbook that has become his final season of college football.
Cummings earned the start against OU based largely off of the spark he provided in KU's near upset of Oklahoma State, but more often looked like the inexperienced, young quarterback he is than the answer for the Jayhawks. Those facts set up a handle-with-care situation.
"Because they're always in the limelight, you can't handle it exactly the same as everyone else," Weis said. "You have to treat 'em the same, but you can't handle 'em the same because there's a sensitivity factor and it's always the story and everyone wants to know."
Dealing with different players at different stages of their careers with different mindsets is nothing new for Weis.
"If you want a fifth-year senior and a red-shirt freshman, how about Bledsoe and Brady," said Weis of the New England Patriots' QB situation during the 2001 season. "That's as close a comparison as I can give ya. That was a second-year guy who was playing for the first time in his career (Tom Brady), and a guy who had played for a decade (Drew Bledsoe). So, yeah, we've dealt with these situations before. It's never easy no matter what way you handle it."
Tough or not, Weis said he had a hard-and-fast rule.
"I like to just flat-out tell 'em, 'Here's exactly what's happening,'" he said. "Normally, when they get into a situation like this, they're guessing what's gonna end up happening. Just as long as you're honest, that eliminates a lot of the problems."
It seems certain that Cummings will get a few more cracks. Although Weis has found plenty of holes in his young quarterback's play, his critiques at least sound like he's talking about a player with a future.
Asked after the loss what he expected his role to be this week, Cummings had little to say.
"I don't know," he said. "Whatever coach asks me to do, I'm gonna do."