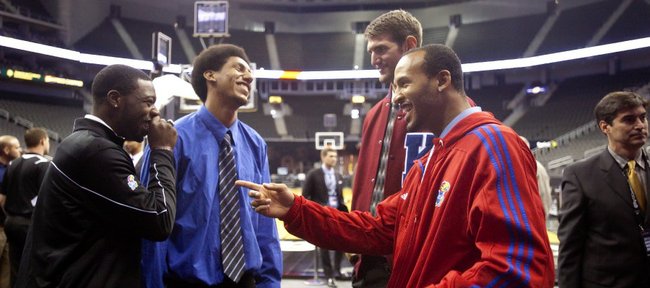 Photo Gallery
Big 12 Media Day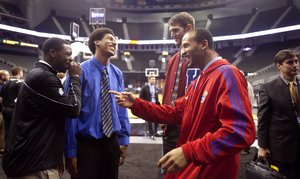 Kansas players and head coach Bill Self mix it up with media members and some of the new faces in the conference.
Kansas City, Mo. — Kansas University's four senior basketball players brought out the bling for Wednesday's Big 12 Media Day festivities in Sprint Center.
Elijah Johnson, Travis Releford, Jeff Withey and Kevin Young each wore their NCAA Final Four/Big 12 title rings, with their intent NOT to be boastful around players and coaches from the other nine league teams.
"No. No. No. We've not been walking around flashing them in everybody's faces," KU senior guard Releford said. "We kind of don't have to because they are huge.
"We know it's our last time wearing these rings. We can't be midseason wearing (NCAA) runner-up rings. We've got to put that in the past and go out and try to compete and win another one."
Withey wore a KU letter jacket for what he called a "special occasion." Releford sported a jacket with a Jayhawk on it, and point guard Johnson wore a Final Four jacket. Young had no jacket but like his buddies wore a collared shirt and tie.
"It says, 'Runner-up,''' Withey said of his ring, that also documented KU's eighth-straight Big 12 title. "That makes you think every day. I want one that says 'National championship.'"
Or as senior forward Young noted: "I take pride in it (ring). We did earn it, but we want more."
Young, a 6-foot-8, 190-pounder from Perris, Calif., was part of the "hard-news" portion of coach Bill Self's 45-minute sit-down session with media members.
"Kevin to me is ahead of everybody right now because of his energy," Self said, referring to the starting-power-forward slot next to center Withey. "He's played better than the other guys, but he should be playing better (as senior).
"Kevin is not a natural scorer. Perry (Ellis, freshman) is more a natural scorer, which complements Jeff. Right now, I just want those guys being aggressive at all times, then we'll try to start putting it together in a couple weeks. There are so many unknowns with Perry, so many unknowns with Jamari (Traylor, red-shirt freshman forward). Obviously Zach (Peters, freshman forward, shoulder injury) is not out there. Right now, everybody is on a level playing field."
A reporter asked Self if Young's energy could make him a good candidate for first man off the bench.
"Could be," Self said. "I'm not going to tell him that right now because I think he's worked hard enough to start without question."
As far as the questions about his rotation, Self said: "We'll start the season playing nine, then it will go to eight, and who knows where it will go after that? We could have a 10th, 11th (man) that will be pretty disappointed because they are pretty good. Last year we had a happy locker room. Everybody knew exactly what their role was and who was going to play and that kind of stuff. This year will be different. There will be some guys disappointed. That also brings out competition, which is good."
Self said that, so far, the seniors have been the ones who have stood out at practice.
"They didn't play well in Europe (on August tour). Kevin did OK, but Jeff, Elijah and Travis didn't," Self said. "They've been better since practice started. Of the freshmen, I'd say Ben (McLemore) and Jamari (have stood out). They have come a long way the last couple months."
Self said he thinks "we have the potential to be good defensively. Offensively, I don't know if we can score inside on the block enough.
"We probably will shoot more jump shots than we have at any point in time since I've been here. I'm not sure that's a strength. We should play through our bigs more. We have a lot of guys that can rise up and make a shot. Hopefully we won't become a jump-shooting team so to speak, but probably more this year than past."
It's all a work in progress. The Jayhawks have had just four practices since Friday's Late Night in the Phog.
"I told them I'd be as hard on them as any group ever. I don't know if that's (been) exactly true because they try so hard," Self said of his team, which includes seven scholarship freshmen he referred to as "puppies."
"I haven't had any reason to be really frustrated with them yet."