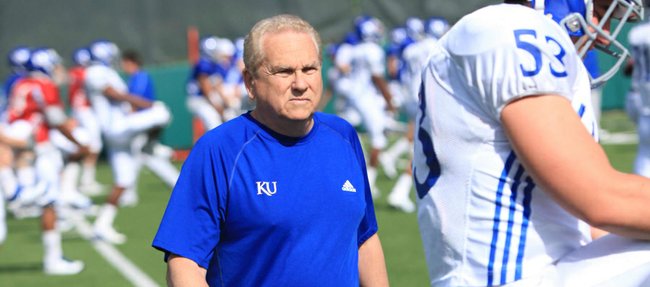 Last year, Kansas University ranked near or at the bottom of Div. I football in most relevant defensive categories.
A year later, under first-year head coach Charlie Weis and defensive coordinator Dave Campo, the Jayhawks have made strides, some more significant than others.
Through six games, KU's defense ranks 91st nationally (of 120 teams) in total defense (434 yards per game), giving up 201 yards per game on the ground (98th) and 233 yards per outing through the air (69th). KU also ranks 77th in scoring defense, surrendering 28 points per game.
While those rankings represent small improvement from last year's finish, the area in which the Jayhawks have made the biggest leap is by landing on the first page of the leader board in a couple of defensive categories.
Kansas ranks 13th in red-zone defense (second in the Big 12), giving up 18 scores (13 touchdowns and five field goals) in 27 trips, and is tied for 22nd in takeaways, with 14.
While the players and coaches credit Campo's experience, expertise and expectations for a lot of the turnaround, it seems confidence has had as much to do with it as anything.
"I have a good understanding of what he's gonna call or what he's thinking," senior cornerback Greg Brown said of Campo. "And that gives me confidence, and I'm sure it does that for the other guys, as well."
Perhaps the most obvious indication that this defense has taken steps forward came last week, when the Jayhawks limited the nation's most potent offense to 288 fewer yards than its average in a 20-14 loss to OSU. In the process, KU bottled up the Big 12's leading rusher, Joseph Randle, (80 yards on 29 carries) and held OSU 35 points below its season average.
"Campo has been around a long time," Weis said. "He's seen good play, and he's seen bad play, but the players haven't seen good play. That's more important, because when the players say, 'Hey, look, that's the best offense in the country, and we just roughed them up,' then our expectations of how they play should go up. If they lead the country in offense and we not only slugged it out with them but, at the end of the game, had the best of them, the players really gained more than anyone else on this."
Weis said last week's effort added to his team's growing confidence.
"(They) have some bounce in their step," he said. "Do they like being 1-5? Absolutely not. Do they feel they're improving? Absolutely."
Confidence and Campo are hardly the only things that have aided KU's slow and steady defensive turnaround.
"Guys are just playing with a lot more passion," senior safety Bradley McDougald said. "Now we just have to come in with that mentality that, when we're clicking all 11 guys at one time, then we can be a great defense."