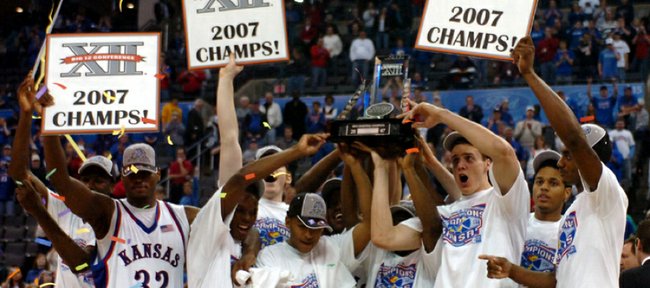 The 2006-07 Kansas University men's basketball team, which won Big 12 Conference regular season and postseason tournament titles and reached the Elite Eight of the NCAA Tournament, will be inducted into Kansas Athletics Hall of Fame at 11 a.m., a week from today, in the Booth Family Hall of Athletics.
All-Americans Holly Gault (soccer) and Egor Agafonov (track and field) will join the basketball team as inductees in a ceremony open to the public.
Also on tap is a brick dedication near the Phog Allen statue east of Allen Fieldhouse for former KU swimming and diving coach Dick Reamon. Reamon, who coached men's swimming and diving from 1963-77, led KU to eight-straight Big Eight Conference men's swim titles from 1968-75.
The 2006-07 Jayhawks were led in scoring by Brandon Rush (13.8 ppg), closely followed by Mario Chalmers (12.2) and Julian Wright (12.0). Others team members: Darrell Arthur, Brennan Bechard, Jeremy Case, Sherron Collins, C.J. Giles, Darnell Jackson, Sasha Kaun, Matt Kleinmann, Brady Morningstar, Russell Robinson, Rodrick Stewart and Brad Witherspoon. The team went 14-2 in the Big 12, 3-0 in the Big 12 tourney, then advanced to the Elite Eight where it fell to UCLA in San Jose, Calif.
Gault, a native of Spring Hill, was a two-time All-America defender from 2003-06. She led KU to a Big 12 soccer title in 2004. Agafonov, a native of Togliatti, Russia, who competed from 2006-08, was a two-time NCAA Indoor weight champion. He won three straight Big 12 titles in both the weight throw and hammer throw.
The Kansas Athletics Hall of Fame was established "to formally recognize outstanding individual and team achievements, and to preserve the heritage and tradition of the university's intercollegiate athletics program."
Roberson to visit: Tyler Roberson, a 6-foot-8, 210-pound senior forward from Roselle (N.J.) Catholic High School, will make an official recruiting visit to KU this weekend. Roberson, who is ranked No. 30 nationally by Rivals.com, has visited SMU and Syracuse with visits planed to Villanova (Oct. 26) and Kentucky (Nov. 2). He's also made an unofficial visit to Rutgers. CBSsports.com has identified Rutgers and Syracuse as Roberson's current leaders.
"I think it's just going to come down to what school is best for me, and what school has the best academics for me and how comfortable I feel," Roberson told JayhawkSlant.com. "I want to sign early. Hopefully I get that done, and I think that I will. I think that I'm coming close to a decision."
NBA draft talk: ESPN's Chad Ford lists KU red-shirt freshman Ben McLemore and senior Jeff Withey the third and fifth best NBA prospects in the Big 12. Baylor freshman Isaiah Austin is first, Texas sophomore Myck Kabongo second and Oklahoma State sophomore LeBryan Nash fourth. KU senior Elijah Johnson was listed in the "others to watch" category with OSU's Marcus Smart and Baylor's Deuce Bello and Pierre Jackson.
Withey was asked at Wednesday's Big 12 Media Days to pinpoint the reason he elected to return to KU for his senior season.
"I thought I could go higher and I wanted to win a championship," Withey said. "To be so close and lose (in final to Kentucky) is heartbreaking and gives you motivation to come back and try one more time. Elijah came back and Travis (Releford) came back and that definitely helped my decision to come back, having them by my side.
"I was with Elijah a lot (before draft declaration date) and talked to him a lot. At the end of the day, we want to win a championship and coach (Bill) Self is a pretty fun guy to play for."
Seven-footer Withey said he will not be thinking about the NBA at all this season.
"It's pretty easy not to focus on it," Withey said. "The way I think is, I have a great year, I'll be in the NBA. I'm focusing on this year now and winning games. If I do that, the benefits will show themselves."