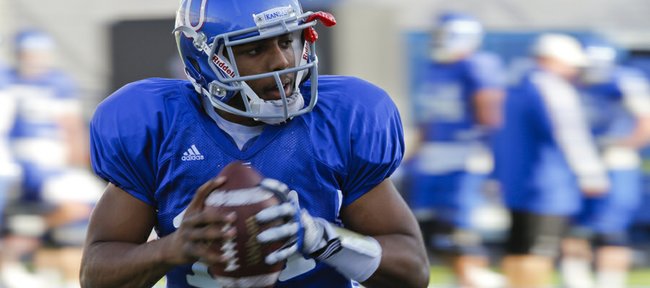 A day closer to kickoff and the mystery remains: Who will start at quarterback for the Kansas University football team this weekend at Oklahoma?
The answer, which has been guarded closely by the KU coaches and players throughout the week, figures to be red-shirt freshman Michael Cummings or fifth-year senior Dayne Crist, though it's possible that Kansas could open up in the Jayhawk formation, making junior Christian Matthews the correct answer.
But when it comes to taking snaps and tossing the football against the Sooners, Cummings and Crist figure to be the guys who will handle the bulk of the work.
The differences between the two have been well documented. Crist, KU's starter through the first six games, has a better build (6-foot-4, 235 pounds), more experience and a greater understanding of KU coach Charlie Weis' offense. Cummings, who has played in the final quarter of each of KU's past two games, is more mobile but shorter (5-10, 201) and has a deceptively strong arm for a guy who lacks prototypical QB size.
Physical make-up is not the only area in which these two are different.
"As far as learning the whole playbook, there's a drastic difference between Dayne and Michael," said KU quarterbacks coach Ron Powlus. "There's no doubt about it. But Mike's grown a lot and I think he's gotten better in all phases."
The things that set his top two quarterbacks apart, and the way those elements can benefit the Jayhawks this weekend in Norman, Okla. — 6:05 p.m. kickoff Saturday at OU's Memorial Stadium — seem likely to be the cornerstone of Weis' gameplan for the Sooners. But while Weis said earlier this week that both Cummings and Crist would play against the Sooners, OU coach Bob Stoops did not seem like a coach who thought the identity of the guy taking KU's snaps would matter much.
"They're not that much different," Stoops told SoonerScoop.com on Wednesday. "I don't see that. When (Cummings) went into the game the other day, it wasn't that much different. So it's not really that big a deal."
If there's one area in which Stoops' comments ring true, it's in the way the KU coaches handled Cummings and Crist this week. Although the reps were split up more evenly in practice and both guys were asked to execute different duties in the revamped offense, neither was treated any differently mentally.
"You prepare like you're gonna play," KU quarterbacks coach Ron Powlus said. "So you treat Dayne the same way you've treated Dayne every day so far this year, and you treat Mike the same way. Both guys always have to have the mindset that they're gonna play in the game and they're gonna have significant roles."